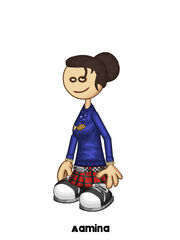 Aamina is a young girl who works at the Asian Rose Salon (Parody of Asian Lily Salon). She first appears in Papa's Freezeria and is a pescetarian (does not eat meat, excluding sea food). Her favorite holiday is Valentines Day (Gondola 500 in Pastaria, Big Top Carnival in Donuteria).
Orders
freezeria: medium cup, rainbow sherbet syrup, nutty butter cups, smooth blend, whip cream, blueberry topping, tropical charms, nuts, 3 bananas
freezeria HD: medium cup, blue moon syrup, cinnamon rolls, regular blend, whip cream, blueberry topping, coconut shavings, wildberry derps, 3 hazelnut swizzle
Freezeria to go: large cup, chai tea syrup, cinnamon rolls, smooth blend, maui meringue, white chocolate topping, key lime topping, mango topping, 3 white chocolate truffles
pancakeria: 2 waffles with pecan mix, whip cream, raspberries, 3 strawberries, honey, drink: tea in L. cup with ice
wingeria: 4 teriyaki shrimp, 4 wasabi shrimp, 4 spicy garlic shrimp, kung pao dip
hot doggeria: veggie dog, pumpernickel roll, sauerkraut, pineapple relish, mayo, ballpark mustard. drink: purple burple in M. cup, popcorn: cotton puffs in L. box
cupcakeria: liner C, strawberry cake.
cupcake 1: pink frosting, vanilla drizzle, X O sprinkles, 3 chocolate strawberry
cupcake 2: white frosting, watermelon drizzle, X O sprinkles, 3 frosted roses
pastaria: regular malfadine (Spaghetti in other holidays), garlic basil sauce, garlic rush, 7 fried ravioli, 3 fried calamaris, 3 shrimp
donuteria:
donut 1: pumpkin bearclaw donut, vanilla icing, blue moon drizzle, raspberry bark
donut 2: blueberry ring donut, cotton candy icing, apple pie filling, choco banana drizzle
donut 3: regular long john donut, chocolate icing, whip cream filling, caramel apple drizzle
Trivia
​