Just What do you Think You're Doing,

User

?
This is property of Doremy. Please Do Not Edit Unless you got Specific Permission. However, you may edit Grammar Mistakes and Other Minor Edits.
Aiden is a vampire who is the brother of
Hannah
. He is the son of
Lauren
and
Jacob
.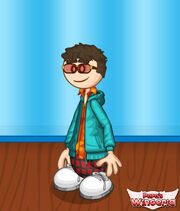 He likes to randomly turn into a bat. He likes pineapple. He first appeared in Papa's Pizzeria.
Pizzeria: 6 peppers, 6 pepperonis,  4th of a meter, 8ths
Burgeria: Bun, Medium Patty, cheese, tomato, tomato, cheese, mayo, bun
Burgeria HD: Bun, Medium Patty, Pepperjack Cheese, awesome sauce, swiss cheese, tomato, Bun
Taco Mia: Soft, Beef, guacamole, cheese, mild sauce, lettuce, black beans
Freezeria: Small Cup, Pineapples, Rainbow Sherbet syrup, Smooth, cream, tropical charms, mint shavings, sprinkles, 3 creameos
Pancakeria: Blueberry Pancake, syrup, cinnamon, rasperries, 6 strawberries, Small Milk with Cocoa
Wingeria: 4 BBQ wings, 8 cheese cubes, kung pao, awesome sauce, mango chili dip
Hotdoggeria: Hoagie Roll, Keilbasa, relish, pineapple relish, wild onion sauce, salsa, Medium Root Beer, Medium Cinnamon Swirl
Doremy Sweet

's FCs
Major FCs
(Click to Expand/Hide)
Minor FCs
(Click to Expand/Hide)
Touhou FCs
(Click to Expand/Hide)
Ad blocker interference detected!
Wikia is a free-to-use site that makes money from advertising. We have a modified experience for viewers using ad blockers

Wikia is not accessible if you've made further modifications. Remove the custom ad blocker rule(s) and the page will load as expected.