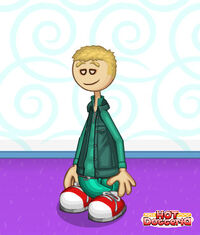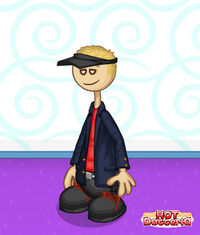 Alessandro Is an a Italian Guy. His First Appearance Is PL: WPA! He is a Good Friend of Roy. He Hates Pear Juice.
Orders
Pizzeria: 6 Pepperonis on Left Half, 6 Mushrooms on Right Half, 3 Anchovies, Cooked for 35, Cut in 4ths.
Burgeria: Bun, Ketchup, Cheese, BBQ, Ketchup, Medium Patty, BBQ, Tomato, Bun.
Taco Mia: Pita, Pork, Cheese, Nacho Cheese, Cheese, Tomato, Nacho Cheese.
Freezeria: S Mint w/ Yum'n'ms, Chunky, Choco Cream, Butterscoth Sprinkles, Butterscoth, Shaved Mints, Banana, Creameo.
Pancakeria: Pecan Waffle (x2), Cinnamon, Whipped Cream, Sugar, Cinnamon,  x3 Butter. S Coffee w/ Sugar.
Wingeria: 4 Parmesan Boneless, 4 Red Peppers, 4 Green Peppers, 4 Fries, 4 Cheese Cubes, Awesome Suace, Blue Cheese, Zety Pesto, Blue Cheese.
Hot Doggeria: Pumpernickel Roll, It. Sausage, Salsa, Mayo, Salsa, Mustard, Salsa, Mild Suace, x3 Tomatoes, M Tangerine Pop, M Cinnamon Swirl.
Ad blocker interference detected!
Wikia is a free-to-use site that makes money from advertising. We have a modified experience for viewers using ad blockers

Wikia is not accessible if you've made further modifications. Remove the custom ad blocker rule(s) and the page will load as expected.