Just What do you Think You're Doing,

User

?
This is property of Doremy. Please Do Not Edit Unless you got Specific Permission. However, you may edit Grammar Mistakes and Other Minor Edits.
Alina is a girl from Sakura Bay. She is good friends with
Emily
. Based on her clothes, she loves green. She was First seen in Papa's Taco Mia. She is a big fan of the Samurais baseball team. She is a werewolf. As a result, she and the 
Scarlet Sisters
 are archenemies. However, she is friendly towards
Jacob
and
Lauren's
family. Her favorite holiday is Halloween.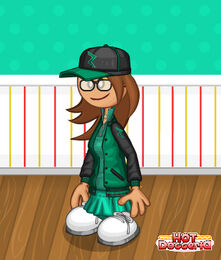 Orders
Taco Mia: Pita Taco, Pork, lettuce, jalapenos, verde sauce, guacamole, verde sauce
Freezeria: Small Cup, Marshmallows, Mint Syrup, Smooth, Cream, mint shavings. sprinkles, 3 cherries
Pancakeria: Pecan Pancake, Waffle, Cream, bananas, syrup, Small Cranberry Juice With ice
Wingeria: 4 wasabi wings, 4 green peppers, 4 Celeries, 2 zesty pestos, 1 ranch dip
Hotdoggeria: Pretzel Bun, Veggie Dog, Fajita Veggies, Papa's Ballpark Mustard, relish, 6 sport peppers, Large Hyper Green, M Kettle Corn
Cupcakeria: Liner D, Vanilla Cake, Cupcake 1: Violet Frosting, Rock Candy, Lollipop Bits (Spooky Sprinkles), 3 Nutty Butter Cups (Candy Corns), Cupcake 2: Deep Purple Frosting, Rainbow Sprinkles (Spooky Sprinkles), Strawberry Drizzle, Chocolate Drizzle (Licorice Drizzle) Cherry (Sugar Skull), Marshmallow (Candy Jack-o-Lantern), Cherry (Sugar Skull)
Pastaria: Bowtie Pasta, Papa's Marinara, Black Pepper (Cauldron Powder), Shredded Mozzerella, 4 Tomatoes (Mussels), 4 Meatballs, 1 Green Pepper (Mussel)
Donuteria: Donut 1: Pumpkin Roll Shaped (Skull), Red Icing, Blackberry Jelly (Brownie Batter), Banana Drizzle, Donut 2: Red Velvet Long John, Powdered Sugar, Crushed Peanuts, Mini-Marshmallows (Spooky Sprinkles), Donut 3: Vanilla Round Shaped (Skull), Orange Icing (Full Moon Icing), Dreamsicle Drizzle (Peanut Butter Drizzle), Creameo Bits
Cheeseria: Marble Rye Bread, Marble Colby Cheese (Monster Muenter), Sliced Ham, Fajita Peppers (Spookly Slaw), Honey Mustard Sauce (Jackmomole), Sweet Potato Wedges With Rico's Chili and BBQ Sauce
Doremy Sweet

's FCs
Major FCs
(Click to Expand/Hide)
Minor FCs
(Click to Expand/Hide)
Touhou FCs
(Click to Expand/Hide)
Ad blocker interference detected!
Wikia is a free-to-use site that makes money from advertising. We have a modified experience for viewers using ad blockers

Wikia is not accessible if you've made further modifications. Remove the custom ad blocker rule(s) and the page will load as expected.