Just What do you Think You're Doing,

User

?
This is property of Doremy. Please Do Not Edit Unless you got Specific Permission. However, you may edit Grammar Mistakes and Other Minor Edits.
Amir is an Egyptian-American man. He is
Iman
's cousin. He first appeared in Papa's Burgeria. He is someho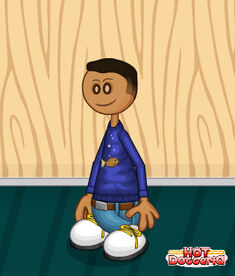 w fluent in English, Spanish, German, Russian, Japanese, Italian, and Arabic :-). His favorite holiday is St. Paddy's Day (Cupcakeria-Donuteria), and Portallini Feast (Cheeseria)
Bio
Amir is unusually smart. Nobody knows why. However, he doesn't act it, because he is very humble. Some people think he's weird because of this. He hates his cousin Iman for some reason.
Orders
Burgeria: Bun, Well-Done Patty, Lettuce, Tomato, Cheese, Ketchup, Bun
Burgeria HD: Bun, Well-Done Patty, Pepperjack Cheese, Awesome Sauce, Onion Ring, Bacon, Bun
Taco Mia: Hard Taco, Chicken, verde sauce, cheese, jalapenos, tomatoes, black beans
Freezeria: Small Cup, Nutty Butter Cups, Rainbow Syrup, Regular, Whipped Cream, blueberry syrup, tropical charms, sprinkles
Pancakeria: Blueberry Toast, Syrup, blueberries, sugar, honey, Large Tea with Sugar
Wingeria: 7 teriyaki Boneless, 2 BBQ wings,  5 red peppers, 2 green peppers, zesty pesto, kung pao
Hotdoggeria: Regular Bun, Veggie Dog, ketchup, salsa, hot sauce, salsa, pickle, Large Diet Fizzo, Medium Red Hot Popcorn.
Cupcakeria: Liner A, Chocolate Cake, Cupcake 1: Teal Frosting, Coconut Shavings, 3 Nutty Butter Cups, Cupcake 2: White Frosting, Chocolate Chips, Strawberry Drizzle (Pistachio Drizzle), Cloudberry (Chocolate Coin)
Pastaria: Penne, Papa's Marinara, Shredded Mozzerella, 4 Onions (Broccoli), Poppyseed Roll
Donuteria: Donut 1: Vanilla Round (Shamrock), Strawberry Icing, Whipped Cream, Crushed Peanuts (Lucky 7s), Donut 2: Blueberry Ring, Sky Blue Icing, Blueberry Custard (Mint Cream), Blue Moon Drizzle (Key Lime Drizzle), Cosmic Coconut, Donut 3: Chocolate Long John, Red Icing (Green Icing), Creameo Bits, Vanilla Drizzle
Cheeseria: Ciabatta Bread, Provolone Cheese (Ricotta),  Olives, Sauerkraut, Sauteed Onions, Awesome Sauce (Marinara Sauce), Curly Fries with Nacho Cheese
Doremy Sweet

's FCs
Major FCs
(Click to Expand/Hide)
Minor FCs
(Click to Expand/Hide)
Touhou FCs
(Click to Expand/Hide)
Ad blocker interference detected!
Wikia is a free-to-use site that makes money from advertising. We have a modified experience for viewers using ad blockers

Wikia is not accessible if you've made further modifications. Remove the custom ad blocker rule(s) and the page will load as expected.