Analisa



Her new look in Cheeseria

First Appearence

Papa's Freezeria

Family
Analisa Tracy Choyyld
is a young girl who is great friends with
Amber's
younger sister
Tennyr
. Analisa is 12 years old, she will never be a closer, she has medium sized orders. She first appears in Freezeria. Her older sisters are 
Dawn
, and 
Xena
. She also plays the Kazoo. Her favorite holiday is the New Year (In all four).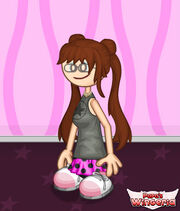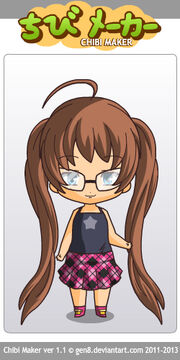 Orders
Freezeria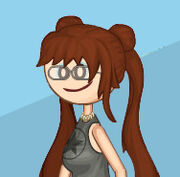 Medium Cup
Nutty Butter Cups
Mint Syrup
Smooth Blend
Chocolate Whipped Cream
Butterscotch Topping
Tropical Charms
Cherry
Pancakeria
French Toast with Bacon Mix
Pancake
French Toast with Bacon Mix
Whipped Cream
Honey
5x Butter
Milk, L, Cocoa
Burgeria HD
Top Bun
Ketchup
Mustard
Mayo
BBQ
Rare Patty
Pickle
Mayo
Mushrooms
Bottom Bun
Wingeria
9 Buffalo Wings
7 Cheese Cubes
2 French Fries
Zesty Pesto Dip
Hot Doggeria
Pretzel Bun
Veggie Dog
Mayo
Mustard
Sauerkraut
Mushrooms
Sport Pepper, Tomato, Sport Pepper
Pickle
S Lemon Mist
M Cinnamon Swirl
Cupcakeria
Cupcake 1
Sunglow Frosting
Chocolate Chips
Vanilla Drizzle
Stache Sprinkles (during New Year)
Cloudberry, Candle (during New Year), Cloudberry
Cupcake 2
Mocha Frosting
Lollipop Bits
Strawberry Drizzle (Flavor X Drizzle during New Year)
Cherry
Pastaria
Bowtie (Rainbow Gramigna)
Regular
Three Cheese Sauce
Crushida Pepper
Black Pepper
Rainbow Peppercorn
Crecsent Roll
Freezeria To Go!
Medium Cup
Blackberries
Tutti Frutti Syrup (Strawberry)
Regular
Strawberry Fluff
Butterscotch Topping
Mango Topping
White Chocolate Topping
Cotton Candy Creameo, (none), Strawberry Wafer
Donuteria
Donut 1

Red Velvet
Ring (Infinity)
Orange Icing (Midnight Powder)
(Countdown Crunch)

Donut 2

Regular
Round
Strawberry Jelly (Tutti Frutti)
Vanilla Drizzle (Creameo Drizzle)
Creameo Bits

Donut 3

Chocolate
French Cruller
Clear Glaze
Cookie Dough Cream
Strawberry Drizzle
Sugarplum Drizzle (Flavor X)
Cheeseria
Pretzel Bread (White Bread if not unlocked) (Cheddar Swirl)
Asiago Cheese
Mustard (Parmesan Sauce)
Bacon
Pulled Pork (Mac n Cheese)
Well Done