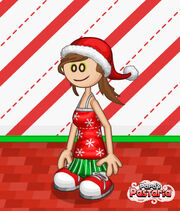 'If anyone can do it, Santa can!"
-Angelina Fernando
Angelina is a girl from Calypso Island. She is teacher for Mint Barvard University's Driving Class! She has her own car called the Santa Sleigh, (name referred to her style of dress). She is triplets along with Angel and Angelicca. Her orders mainly consists of red and green items She is absent in Pastaria.
Biography
Angelina grew up in a family of 8 with 2 sisters,3 brothers and a mom and dad. She has always had a thing for Christmas because when she was at a age of 5, her parents told her the myth about Santa Claus like any other parent, and Angelina believed it, like any other kid. But then she still believed in Santa at the age of 8, and now, at the age of 10, she still believes that Santa is watching her, so she acts nice almost everywhere, but not infront of her sister, Angel, which she hates because Angel doesn't believe in Santa and says that she's being childish.
Orders
Papa's Freezeria
Large Cup
Strawberries
Mint Syrup
Chunky Blend
Regular Whipped Cream
Strawberry Syrup
Sprinkles
Cherry
Cherry
Cherry
Papa's Pancakeria
French Toast
French Toast
Raspberries
Cranberry Juice with Cream
Papa's Wingeria
3 Atomic Shrimps
3 Wasable Strips
3 Red Peppers
3 Green Peppers
Papa's Hot Doggeria
Chicago Bun
Kielbasa
Salsa
Relish
Fajita Veggies
Ketchup
Tomato
Green Pepper
Tomato
Large Hyper Green
Large Hot Corn
Papa's Cupcakeria (Standard Order)
Cupcake 1
Liner A
Red Velvet Cake
Red Frosting
Cherry
Cupcake 2
Liner A
Red Velvet Cake
Green Frosting
Strawberry Drizzle
Ad blocker interference detected!
Wikia is a free-to-use site that makes money from advertising. We have a modified experience for viewers using ad blockers

Wikia is not accessible if you've made further modifications. Remove the custom ad blocker rule(s) and the page will load as expected.