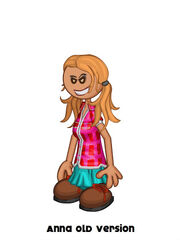 Anna Icy is a 18 year old girl that has a brother named Kurt Icy. she also has cousins and best friends named Katie Bellton and Alice Bellton.she is a clever bookworm and also loves Puzzles.she seems to eat less when a closer or even sometimes regularly. she also seems to like blueberries. especially Grandma Thelma's Blueberry Pie.
Birth date:October 12 
Fave Seasons: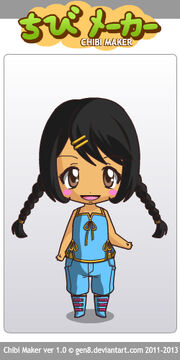 In Cupcakeria: New Year
In Pastaria:all of them Holiday Orders: 
Cupcakeria
BOTH CUPCAKES-
Liner A,Kiwi Cake,Black Frosting,X Drizzle,3x New Year Toppers.
Pastaria: 
Random (changes every holiday.)
Orders
Freezeria: S Cup,blueberries,mint syrup,regular blend,choco whipped cream,blueberry syrup,rainbow sprinkles,Creameo,Cherry,Creameo (unlocked at rank 24)
Pancakeria: 2 pancakes with Blueberry Syrup,blueberries and 4 bananas. DRINK: Orange Juice (unlocked at rank 45) 
Wingeria (Closer):4 boneless wings with Buffalo Sauce,and Ranch Dip,and also 4 french fries. (rank 32)
Hot Doggeria: regular bun and hot dog,onions,ketchup and chili,M Hyper Green,S Buttered Popcorn (Rank 27)
Cupcakeria: Liner A in every holiday and the basic,blueberry cake,violet frosting in cupcake 1 and green in cupcake 2,rainbow sprinkles,marshmallow,cloudberry,marshmallow.( rank 45)
Pastaria:(closer) macaroni,Papa's Marinara,5 meatballs,garlic bread. (day 2)
TRIVIA
1. Anna is a magician
2.she can experiment with science and can find mysteries in illusions,and can also solve puzzles
3.Anna Icy also has secret powers....to teleport herself and can become invisible.
4. she does not appear on apps.
5.her favorite baseball team is Portallini Gondoliers.
6.she can interact with ANYTHING that improves waitng score. especially posters. for example,she has her back turned when she sees posters. meaning she is reading it. she can also interact with tables.she can experiment with the things on the table or using it like a drum when she encounters it. so her waiting score is ALWAYS 100%.(IF THERE ARE WAITING SCORE IMPROVEMENTS IN HER AREA.)
7. She is heavily modified from being a Blondie in a Cranky Mood to a Black haired lady who is very carefree.
8.She is friends with the B-Fast Girls.Although Peppermint seems more in the mood with Katie.
9.She,along with Katie,have minor powers that are not used commonly.
10. Her Flipdeck Scenes change 3 times,depending on the events.For example,Her first Flipdeck look is her (see old version.),doing her homework from Freezeria to the next gameria.(although in the events of Cupcakeria her old version is switched with the current look.).In Sushiria (possibly),her flipdeck scene shows herself in a gown. In the next next next gameria,Her Flipdeck shows her dancing in the Moonlight Disco with her gown.
11. It is unknown if she gets a part of the B-Fast Girls. 
12.Even though Anna is a clever one,she is not so artistic.She is bad at drawing but still passes Art Class.
Ad blocker interference detected!
Wikia is a free-to-use site that makes money from advertising. We have a modified experience for viewers using ad blockers

Wikia is not accessible if you've made further modifications. Remove the custom ad blocker rule(s) and the page will load as expected.