Annabell
is a customer who debuts in Papa's Pizzeria. She is from an island that's far from Tastyville and moved there when she was two. Her brother is
Jam
 and her friend is
Emir
. Her orders consist of tropical food.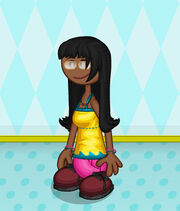 Orders
Pizzeria: 1 of each topping, cooked for 30 minutes and sliced into half.
Burgeria: (Bottom Bun) Well Done Patty, BBQ, Onion, Mustard (Top Bun).
Taco Mia: Soft Beef Taco, Guac, Loco Mystery Sauce, Verde Sauce, Onions.
Absent in both Freezeria and Pancakeria*
Wingeria: 5 Wild Onion Strips, 5 Calyspo Wings, 5 Cheese Cubes.
Hot Doggeria: Chicago Bun, Cheddarwurst, Mayo, Onions, 1 Pickle, S Diet Fizzo + S Buttered Popcorn
Ad blocker interference detected!
Wikia is a free-to-use site that makes money from advertising. We have a modified experience for viewers using ad blockers

Wikia is not accessible if you've made further modifications. Remove the custom ad blocker rule(s) and the page will load as expected.