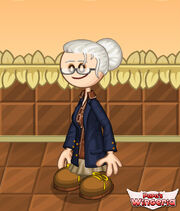 Aria Luna Tate (nee Mitchell) is Tyler's Mother, she is the grandmother of
Matthew
,
Amber
,
Tennyr
, and
Auburn
. Thanksgiving is her favorite holiday.
Orders
Pizzeria:
8 Anchovies on left
8 Olives on right
4 Mushrooms all around
cooked for 40 mins
cut into 4ths
Burgeria
Top Bun
Mayo
(Pepperjack) Cheese
Lettuce
Pickle
Medium Patty
Bottom Bun
Medium Patty
Bottom Bun
Taco Mia!
Hard Shell
Beef
Sour Cream
Tomatoes
Verde Sauce
Guacomole
Mild Sauce
Freezeria
Small Cup
Marshmallows 
Rainbow Sherbert Syrup
Chunky Blend
Chocolate Whipped Cream
Blueberry Topping
Tropical Charms
Sprinkles
Cookie, (blank) ,Cookie
Pancakeria
French Toast
French Toast
Blueberry Syrup
Chocolate Chips
5 Strawberries
Decaf, S, Sugar
Wingeria
4 Calypso Strips on left
4 Wild Onion Strips on right
4 Red Peppers
Ranch Dip, Awesome Sauce Dip, Ranch Dip
Hot Doggeria
Pretzel Bun
Cheddarwurst
Mayo
Pineapple Relish
Mushrooms
Wild Onion Sauce
Small Diet Fizzo, Large Kettle Corn
Cupcakeria
Cupcake 1 and 2
Orange Frosting (on 1) Black Frosting (on 2)
Chocolate Drizzle (Pumpkin Pie Drizzle during Thanksgiving)
Creameo Bits (Autumn Leaves sprinkles during Thanksgiving)
Chocolate Acorn, Cherry, Chocolate Acorn
Pastaria
Penne (Harvest Tortallinni)
Regular
Beefy Bolognese (Papa's Mariana if not unlocked) (Pumpkin Pomodoro)
Black Pepper
13x Proscitto (Roasted Turkey)
Pepperoni Bread 
Ad blocker interference detected!
Wikia is a free-to-use site that makes money from advertising. We have a modified experience for viewers using ad blockers

Wikia is not accessible if you've made further modifications. Remove the custom ad blocker rule(s) and the page will load as expected.