Just What do you Think You're Doing,

User

?
This is property of Doremy. Please Do Not Edit Unless you got Specific Permission. However, you may edit Grammar Mistakes and Other Minor Edits.
Ashley is a Japanese girl who is an astronaut. She first appeared in Papa's Pizzeria. She is taller than Connor, because she goes into space alot. She is 7ft Tall. She is absent quite a lot, due to her space travelling career. Her favorite holiday is Gondola 500 (Pastaria), and Summer Luau (Cheeseria)
Pizzeria: 13 Peppers, bake for 30 mins cut in 8ths
Burgeria: Bread, Lettuce, Lettuce, Tomato, Medium Patty, Tomato, Lettuce, Bread
Taco Mia!: Absent
Freezeria: Medium Cup Blueberries, Rainbow Sherbert syrup, Chunky, Whipped cream, blueberry syrup, sprinkles, creameo
Pancakeria: 3 Chocolate chip waffles, blueberries, sugar, raspberries, and 4 strawberries
Wingeria: 8 calypso shrimp, 4 fries, 3 Kung Pao Dip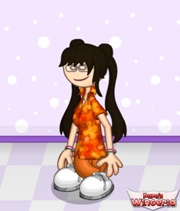 Hot Doggeria: Chicago Bun, Veggie Dog, Pineapple Relish, Hot Sauce, Cheese, Chili, Wild Onion Sauce, Small Root Beer, Large Cheddar Popcorn
Cupcakeria: ABSENT
Pastaria: Macaroni (Mafaldine), Three Cheese Sauce (Hurry Curry), Black Pepper, 3 Tomatoes (Fried Ravioli), 3 Clams
Donuteria: ABSENT
Cheeseria: Rosemary Foccacia (Hawaiian Roll), Swiss Cheese, Bacon (Pineapple), Sliced Turkey, Philly Steak, Awesome Sauce (Calypso Sauce), Waffle Fries with Nacho Cheese and Bacon Bits
Doremy Sweet

's FCs
Major FCs
(Click to Expand/Hide)
Minor FCs
(Click to Expand/Hide)
Touhou FCs
(Click to Expand/Hide)
Ad blocker interference detected!
Wikia is a free-to-use site that makes money from advertising. We have a modified experience for viewers using ad blockers

Wikia is not accessible if you've made further modifications. Remove the custom ad blocker rule(s) and the page will load as expected.