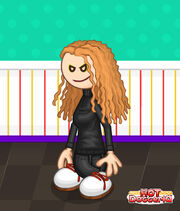 Betty is a closer in Papa's Hot Doggeria and Cupcakeria, though, alike Dawn, Akari and Ninjoy, she did not debut in where she became a closer. She made her debut in Papa's Freezeria, though, like Pinch Hitwell, she made a minor appearence in Pizzeria and Burgeria in the same fashion as Johnny(Pinch Hitwell). Since she is a closer in Cupcakeria, her favorite holiday are all of them. She keeps her closer look after Freezeria HD
Orders
Freezeria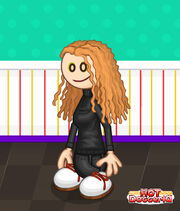 Large Cup
Creameo Bits
Mint Syrup
Chunky Blend
Chocolate Whipped Cream
Mint Shavings
Peanuts
Creameo
Pancakeria
Burgeria HD and To Go!
Top Bun
Fried Egg (only on To Go!) Bacon (only on HD)
Awesome Sauce
Lettuce
Swiss Cheese
Onion Ring
Medium Patty
Bottom Bun
Wingeria
12 Honey Mustard Shrimp
Awesome Sauce, Ranch, Zesty Pesty Dip
Hot Doggeria
Hoagie Roll
Italian Sausage
Mayo
Mushrooms
Sport Pepper 2x
Bacon
Medium Root Beer, Large Cinnamon Swirl
Cupcakeria
Liner C 
Zebra Cake
White Frosting
(Seasonal Sprinkles)
Cherry, (Seasonal Topper), Cherry
Ad blocker interference detected!
Wikia is a free-to-use site that makes money from advertising. We have a modified experience for viewers using ad blockers

Wikia is not accessible if you've made further modifications. Remove the custom ad blocker rule(s) and the page will load as expected.