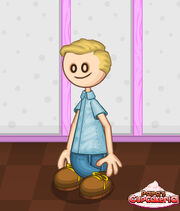 Brady is a fun loving guy who loves to surf. He is based off of Brady from Teen Beach Movie. His girlfriend is Mack. He first appears in Freezeria. His favorite holiday is Summer Luau.
Orders
Freezeria
Large Cup
Nutty Butter Cups
Banana Syrup
Regular Blend
Whipped Cream
Tropical Charms
Strawberry Drizzle
Banana, (none), Banana
Pancakeria
Waffle + Blueberry Mix
Waffle + Blueberry Mix
Honey
4x Banana
Orange Juice, S, Ice
Burgeria HD
Top Bun
Pepperjack Cheese
BBQ Sauce
Rare Patty
BBQ Sauce
Swiss Cheese
Bottom Bun

Wingeria
4 Calypso Shrimp
4 Honey Mustard Strips
4 Celery
Mango Chili Dip, Ranch Dip, Mango Chili Dip
Hot Doggeria
Chicago Bun
Hot Dog
Pineapple Relish
Wild Onion Sauce
Mustard
Sport Pepper, (none), Sport Pepper
Small Diet Fizzo, Small Candy Jack
Cupcakeria
Cupcake 1
Teal Frosting
Strawberry Drizzle
Chocolate Chips
Honey Drizzle
Banana, Cherry, Banana
Cupcake 2
Dark Blue Frosting (Teal if locked)
Strawberry Drizzle
Creameo Bits
Honey Drizzle
Paper Umbrella, (none), (none)
Pastaria
Spaghetti (Shells)
Regular
Pineapple Pancetta
Italian Seasoning (Parmesan Cheese) (Lemon Herb)
9X Meatball (Glazed Ham)
Foccacia
Ad blocker interference detected!
Wikia is a free-to-use site that makes money from advertising. We have a modified experience for viewers using ad blockers

Wikia is not accessible if you've made further modifications. Remove the custom ad blocker rule(s) and the page will load as expected.