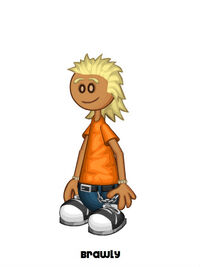 Brawly is a customer based on the pokemon gym leader with the same name, specialized on Fighting Type and the gym leader of Dewford Town.
Orders
Burgeria:Bun, Ketchup, Medium Patty, Ketchup, Medium Patty, Mustard, Bun.
Taco Mia: Pita, Beef, Verde Sauce, Lettuce, Diced Onion, Sour Cream.
Freezeria: S, NBC, Mint, Regular, Whip Cream, Chocolate Chips, Shaved Mints, Chocolate Chips, Tropical Charms.
Pancakeria: Blueberry Toast, Blueberry Syrup, Cinnamon, Pecan Toast, Chocolate Chips, Cinnamon. S Coffee w/ Sugar.
Wingeria: x3 Parmesan Wings, x3 BBQ Wings, x6 Celery (left) x3 Red Peppers (right) x3 French Fries (left).
Hotdoggeria: Chicago Bun, Regular Dog, Mustard, Pinneaple Relish, Ketchup, Pinneaple Relish, Bacon. M Root Beer, M Candy Jack.
Cupcakeria: COMING SOON!
Freezeria HD: COMING SOON!
Ad blocker interference detected!
Wikia is a free-to-use site that makes money from advertising. We have a modified experience for viewers using ad blockers

Wikia is not accessible if you've made further modifications. Remove the custom ad blocker rule(s) and the page will load as expected.