(Not to be Confused With Brendah)
Just What do you Think You're Doing,

User

?
This is property of Doremy. Please Do Not Edit Unless you got Specific Permission. However, you may edit Grammar Mistakes and Other Minor Edits.
Brenda is a Japenese woman. She first appeared in Papa's Pizzeria. Her husband was
Moki
but they divorced because she adopted
Margie
. Her new and current husband is Doan. She is the adoptive mother of
Margie
. Her favorite holiday is Easter.
Personality
Brenda is a very nice and caring person who would do anything for the sake of others. However, sometimes she is too nice, and does something for another person that might not benefit them.
Orders
Pizzeria: 8 onions all around, half a timer, 8ths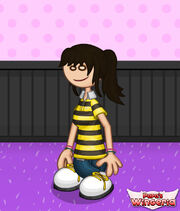 Burgeria: Bun, Well Done Patty, onion, lettuce, tomato, cheese, BBQ bun
Taco Mia: Soft taco w/ pork, lettuce, cheese, peppers, loco sauce
Freezeria: Small Cup, Pineapples, Vanilla Syrup, cream, butterscoth, cherry on the left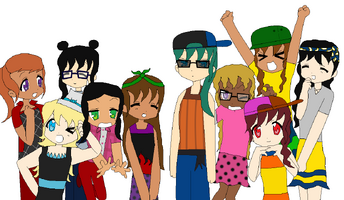 Pancakeria: 2 bacon pancakes, blueberrys, syrup, large milk with cocoa
Wingeria: 4 Spicy Garlic Shrimps All around, 8 cheese cubes to the left, 8 celeries to the right, 3 Ranch Dips Hotdoggeria: Pretzel Bun, Kielbasa, Ketchup, mayo, pinapple relish, Small Fizzo, Medium Cotton Puffs
Cupcakeria: Liner C, Chocholate Cake, Cupcake 1: White Frosting, Creameo Bits, 3 Cloudberries Cupcake 2: Chocholate Frosting, Rainbow Sprinkles, Cherry
Pastaria: Gnocci, Three Cheese Sauce, cheese, crushida pepper, 9 sausages, Cheesy Bread!
Donuteria: Donut 1: Vanilla Long John (Egg), Sky Blue Icing (Lavender icing), Peanuts (Jelly Beans), Caramel Drizzle, Donut 2: Chocolate Round, Vanilla Icing, Chocolate Mouse (Marshmallow CHEEPS Filling), Rock Candy, Banana Drizzle (Pink Lemonade Drizzle), Donut 3: Pumpkin French Cruller (Egg), Cinnamon Sugar, Raspberry Bark (Jelly Beans), Strawberry Drizzle (Wildberry Shake Drizzle)
Cheeseria: Three Cheese Bread (Paska Bread), Shredded Cheddar (Sirecz Cheese), Fried Egg (Pickled Egg), Bacon, Lobster Chunks, Bacon, Southwest Sauce (Hollandaise Sauce), Sweet Potato Wedges With BBQ Sauce
Doremy Sweet

's FCs
Major FCs
(Click to Expand/Hide)
Minor FCs
(Click to Expand/Hide)
Touhou FCs
(Click to Expand/Hide)
Ad blocker interference detected!
Wikia is a free-to-use site that makes money from advertising. We have a modified experience for viewers using ad blockers

Wikia is not accessible if you've made further modifications. Remove the custom ad blocker rule(s) and the page will load as expected.