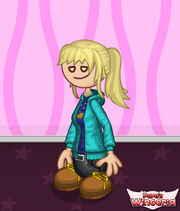 Bridgette is a 18 year old girl, she loves to surf, she is friends with
Lyndsey
and enemies with
Heather
, she first appears in Burgeria, and is absent in Pancakeria. Her favorite holiday is the Summer Luau. She is based of of Bridgette from Total Drama.

Orders
Burgeria:
Taco Mia:
Hard Shell
Chicken
Verde Sauce
Cheese
Lettuce
Sour Cream
Peppers
Mystery Loco Sauce
Freezeria
Medium Cup
Yum 'n' Ms
Rainbow Sherbert Syrup (if not yet, Vanilla)
Regular Blend
Whipped Cream
Butterscotch Topping
Chocolate Chips
Sprinkles
Tropical Charms
3x Gummy Onions
Pancakeria:
ABSENT
ABSENT
ABSENT
ABSENT
Wingeria
9 Wasabi Shrimp
2 Buffalo Wings
4 Celery
Blue Cheese Dip, Ranch Dip
Hot Doggeria
Pumpernickel Roll
Veggie Dog
Mustard
Fajita Veggies
Onions
Mushrooms
Pickle
S Diet Fizzo
L Cotton Puffs
Cupcakeria
Cupcake 1
Dark Blue Frosting
Strawberry Drizzle (Honey Drizzle during Summer Luau)
Creameo Bits
Marshmallow(Gummy Pineapple), Cloudberry(Banana), Marshmallow(Gummy Pineapple)
Cupcake 2
Teal Frosting
Vanilla Drizzle (Honey Drizzle during Summer Luau)
Chocolate Chips
Cloudberry(Banana), Cherry(Paper Umbrella), Cloudberry(Banana)
Pastaria
Macaroni
Regular
3 Cheese Sauce
Black Pepper (Mozzerella Shreds if not yet unlocked) (Lemon Herb)
5x Mushrooms
Poppyseed Roll (Cheese Bread if not unlocked)
Ad blocker interference detected!
Wikia is a free-to-use site that makes money from advertising. We have a modified experience for viewers using ad blockers

Wikia is not accessible if you've made further modifications. Remove the custom ad blocker rule(s) and the page will load as expected.