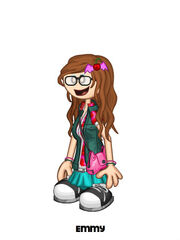 Caden first appears in Papa's Pizzeria. He is best known for working at Flipline Studios as a mail guy. He was born on the 15th of June 1994 and attended Tasytville High. He got a degree in Information Technology and Design & Technology. He has responded to many pieces of fan mail for them. His ambition is to become a moderator of the Flipline Forum, be a manager of Flipline Studios.
Attitude
Caden is not a very outgoing person, but he loves to go to beach in summer. He is usually sitting at his computer answering Flipline e-mails or playing computer games. 
Orders
Papa's Pizzeria
8x Pepperoni Everywhere
8x Sausages Everywhere
2x Green Pepper- Top Right Corner
Cooked for 40 minutes
Cut into 8 Slices
Papa's Burgeria
Top Bun
Mayo
Cheese
(Bacon When Papa's Burgeria To Go)
Ketchup
BBQ Sauce
Lettuce
Rare Burger
Rare Burger
Bottom Bun
Papa's Taco Mia!
Onions
Nacho Cheese Sauce
Tomatoes
Chicken
Pita Bread Shell
Papa's Freezeria
Small
Nutty Butter Cups
Rainbow Sherbet
Chocolate Whipped Cream
Crushed Nuts
4x Cherry
Papa's Pancakeria
Coming Soon...
Ad blocker interference detected!
Wikia is a free-to-use site that makes money from advertising. We have a modified experience for viewers using ad blockers

Wikia is not accessible if you've made further modifications. Remove the custom ad blocker rule(s) and the page will load as expected.