Calvin is a guitarist who first appears in Papa's Freezeria.
Orders
Freezeria:
Creameo, Cookie, Cookie Butterscotch Syrup Chocolate Chips Chocolate Whipped Cream Smooth Vanilla/Cookie Dough Medium Cup Pancakeria:
Drink: Large milk and cocoa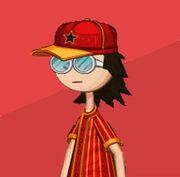 Maple Syrup
4x Butter
Chocolate Chips
Bacon French Toast
Bacon French Toast
Bacon French Toast
Wingeria:
8x Cheese Cubes, all around
8x Medium Boneless Wings, all around
Hot Doggeria:
Drink: Large Root Beer
Popcorn: Large Cheddar Corn

Bacon
Ketchup
Cheese
Chili
Cheddarwurst
Chicago Bun 
Ad blocker interference detected!
Wikia is a free-to-use site that makes money from advertising. We have a modified experience for viewers using ad blockers

Wikia is not accessible if you've made further modifications. Remove the custom ad blocker rule(s) and the page will load as expected.