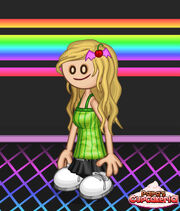 Cameron Camden is a young, fun loving girl. Her older brother is
Jake
. She is in 8th Grade, and she is the Captain Safety Patrol in her school, in the gifted class, with an alpha honor roll, the very highest a student could get. Her favorite holiday is St. Paddy's Day
Orders
Pizzeria
8 Pepperoni on all around but top right
cooked for 20 mins
Cut to 4ths
Burgeria (HD)
Top Bun
(Swiss) Cheese
Onion Ring
Ketchup
(Swiss) Cheese
Well Done Patty
Bottom Bun
Taco Mia!
Freezeria (HD Order to be added soon)
Medium Cup
Strawberries
Vanilla Syrup
Smooth Blend
Whipped Cream
Chocolate Topping
Cherry
Pancakeria
Pancake
Pancake
Pancake
Pancake
Blueberry Syrup
Milk, S, Cocoa
Wingeria
4 Teriyaki Boneless Wings
3 Red Peppers
Awesome Sauce
Hot Doggeria
Chicago Bun
Veggie Dog
Onions
Fajita Veggies
S Purple Burple
L Chocolate Corn
Cupcakeria (Symmetrical)
Liner A
Strawberry Cake
Pink Frosting
Mint Shavings
Rainbow Sprinkles
Cherry, Shamrock, Cherry
Pastaria
Spaghetti
Regular
Papa's Mariana
Lucky Dust (None in other holidays)
5x Mushrooms (Broccoli)
Garlic Breadstick
Ad blocker interference detected!
Wikia is a free-to-use site that makes money from advertising. We have a modified experience for viewers using ad blockers

Wikia is not accessible if you've made further modifications. Remove the custom ad blocker rule(s) and the page will load as expected.