Just What do you Think You're Doing,

User

?
This is property of Doremy. Please Do Not Edit Unless you got Specific Permission. However, you may edit Grammar Mistakes and Other Minor Edits.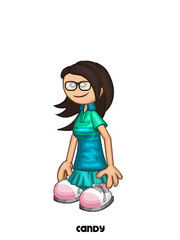 Candy Chiu is a local from Calypso Island. Her BFF is Mabel. She is based off of Candy Chiu from Gravity Falls.
Orders
Freezeria: Medium Cup, Yum & Ms, Chocolate Syrup, Regular, Chocolate Cream, Chocolate Syrup, Sprinkles, gummi onion, cookie, creameo
Pancakeria: blueberry toast. whipped cream, rasperries, syrup, Large cj with ice
WIngeria: 4 medium strips, 10 red peppers, 2 mango chili dips
HotDoggeria: CHicago Bun, Veggie Dog, pineapple relish, mayo, salasa, Small Lemon MIst, Small Cotton Puffs
Cupcakes finish please
Doremy Sweet

's FCs
Major FCs
(Click to Expand/Hide)
Minor FCs
(Click to Expand/Hide)
Touhou FCs
(Click to Expand/Hide)
Ad blocker interference detected!
Wikia is a free-to-use site that makes money from advertising. We have a modified experience for viewers using ad blockers

Wikia is not accessible if you've made further modifications. Remove the custom ad blocker rule(s) and the page will load as expected.