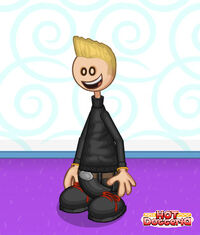 Orders
Pizza: Plain Pizza, 15 Mins, 2 Slices.
Burger: Bun, Cheese, Cheese, Cheese, Medium Patty, Cheese, Cheese, Cheese, Bun
Burger Ipad: Bun, Swiss, Cheese, Pepperjack, Medium Patty, Pepperjack, Cheese, Swiss, Bun.
Taco: Pita, Steak, Cheese, Nacho Cheese, Cheese, Nacho Cheese, Cheese.
Sundae: L, Banana, Pinneaple, Smooth, Whip Cream, Butterscoth, Banana.
Pancake: x6 Pecan Pancake, Cinnamon, x10 Butter, L Tea w/ Ice.
Wing: 6 Parmesan Strips, 6 Parmesan Boneless, 12 Cheese Cubes, Blue Cheese (x4)
Hot Dog: Pumpernickel Roll, Cheddarwurst, Cheese, Cheese, Cheese, Ketchup, Cheese, Cheese. M Diet Fizzo, M Cheddar Corn.
Cupcakeria: Liner D, Lemon Cake.

1st: Sunglow Frosting, Honey Drizzle, Tropical Charms, x6 Bananas.
2nd: Sunglow Frosting, Tropical Chars, Honey Drizzle, x6 Gummy Pinneaples.
Ad blocker interference detected!
Wikia is a free-to-use site that makes money from advertising. We have a modified experience for viewers using ad blockers

Wikia is not accessible if you've made further modifications. Remove the custom ad blocker rule(s) and the page will load as expected.