Just What do you Think You're Doing,

User

?
This is property of Doremy. Please Do Not Edit Unless you got Specific Permission. However, you may edit Grammar Mistakes and Other Minor Edits.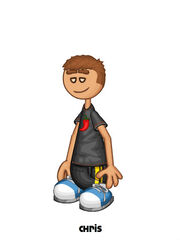 Chris is a guy who is Angie's son. He enjoys tennis. He has Chuck's DNA, along with his sister,
Lyndsey
He also won the tastyville tennis contest. His favorite holiday is Baseball Season in Papa's Cupcakeria, and St. Paddy's Day for the rest.
Pizzeria: 12 sausages, qaurter time, 6ths
Burgeria: Bun, cheese, bottom bun, medium pattie, lettuce, tomato, onion, Ketchup, bun
Taco Mia: Soft, Pork, Loco sauce, Mild sauce, sour cream, mild sauce, tomatoes
Freezeria: Small Cup, Marshmallows, Banana syrup, chunky, chocolate cream, sprinkles, gummi onion, cherry
Pancakeria: Waffles(x3, cinnamon, honey, Large Decaf with cocoa .

Wingeria: 5 Wasabi Shrimps, 3 Wild onion wings, blue cheese dip, mango chili dip
Hot Doggeria: Regular Bun, Italian Sausage, Salsa, Ballpark Mustard, Ketchup, 3 Sport Peppers, Medium Dr. Cherry, Small Cotton Puffs
Cupcakeria: Liner A, Chocolate Cake, Cupcake 1: Red Frosting, Chocolate Chips (Crushed Peanuts), Vanilla Drizzle, 3 Cloudberries (Candy Baseballs), Cupcake 2: White Frosting, Strawberry Drizzle (Butterscotch Drizzle), Creameo Bits (Peanuts), 3 Cherries (Pretzel Bats)
Pastaria: Bowtie, Papa's Marinara (Zesty Pesto), Grated Parmesan, Crushida Pepper (Lucky Dust), 4 Meatballs (Broccoli), Pepperoni Bread
Donuteria: Donut 1: Vanilla Ring (Shamrock), Pink Frosting (Green Frosting), Mini-Marshmallows (Lucky 7s), Creameo Bits, Chocolate Chips, Donut 2: Chocolate Round (Shamrock), Cinnamon Sugar, Strawberry Jelly (Mint Cream), Blue Moon Drizzle (Key Lime Drizzle), Rainbow Sprinkles (Lucky 7s), Vanilla Drizzle, Donut 3: Red Velvet Ring, Sky Blue Icing (Green Icing), Dreamsicle Drizzle (Mint Drizzle), Crushed Peanuts, Cosmic Coconut
Cheeseria: Marble Rye Bread (Barmbrack Bread), American Cheese, Buffalo Sauce (Irish Parsley Sauce), Olives, Tomatoes, Fried Egg, Curly Fries, Chili
Doremy Sweet

's FCs
Major FCs
(Click to Expand/Hide)
Minor FCs
(Click to Expand/Hide)
Touhou FCs
(Click to Expand/Hide)
Ad blocker interference detected!
Wikia is a free-to-use site that makes money from advertising. We have a modified experience for viewers using ad blockers

Wikia is not accessible if you've made further modifications. Remove the custom ad blocker rule(s) and the page will load as expected.