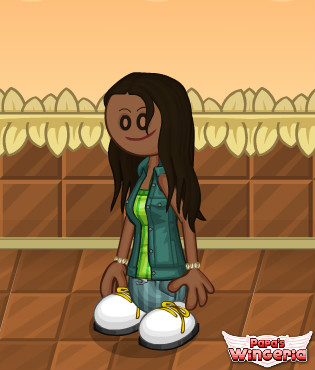 Chyna is a 14 year old girl who goes to Zeectan School for Advanced Natural Talents. Her first appearence is Papa's Burgeria. She is based off of the character Chyna, from Disney Channel's "A.N.T. Farm". Her Favorite Holiday is Starlight Julibee. Chyna is absent in Pancakeria.
Orders
Burgeria
Top Bun
Lettuce
Well Done Patty
Bottom Bun
Taco Mia!
Hard Shell
Chicken
Lettuce
Verde Sauce
Brown Rice
Freezeria
Small Cup
Cookie Dough
Banana Syrup
Chunky Blend
Chocolate Whipped Cream
Butterscotch Topping
Mint Shavings
Tropical Charms
Cookie, Gummy Onion, Cookie
Wingeria
4 Teryaki Strips (on right)
Hot Doggeria
Chicago Bun
Kielbasa
Ketchup
Mayo
Mushrooms
Small Dr. Cherry, Medium Kettle Corn
Cupcakeria
Liner A
Kiwi Cake (Carrot Cake when not avalible)
Cupcake 1 and 2
Forest Green Frosting
Lollipop Bits
Powsicle
Creameo Bits
Cloudberry
Pastaria
Gnocchi
Regular
Garlic Basil Sauce (Rocket Ragu)
Blue Cheese
Cheese Bread
Dawn14

's FCs
Major FCs (Click to Expand/Hide)
Major FCs (Click to Expand/Hide)
Normal FCs (Click to Expand/Hide)
Minor FCs
(Click to Expand/Hide)
Ad blocker interference detected!
Wikia is a free-to-use site that makes money from advertising. We have a modified experience for viewers using ad blockers

Wikia is not accessible if you've made further modifications. Remove the custom ad blocker rule(s) and the page will load as expected.