Claude first appeared in Burgeria, he is from Powder Peak, and is a member of the Crushers. His favorite holiday is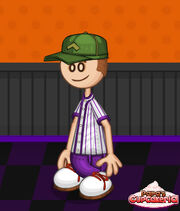 Starlight Jubilee. 
Orders
Burgeria: Bottom Bun, Medium Patty, Mayo, Lettuce, Top Bun.
Taco Mia: Steak, Nacho Cheese, Lettuce, Loco Mystery Sauce, Cheese.
Freezeria: Small Cup, Yum 'n' M's, Mint Syrup, Blended Smoothly, Chocolate Whipped Cream, Sprinkles, 2 Creameos (one left. one right).
Pancakeria: Absent due to skateboarding practicing.
Wingeria: 5 Teriyaki Shrimp (put on the left), 5 Cheese cubes (put on left), 2 Ranch.
Hot Doggeria: Chigago Bun, It. Sausage, Wild Onion Sauce, Onion cubes, 2 Sport Peppers (one left, one right)
Drink and Popcorn: Medium Lemon Mist, Medium Red Hot Popcorn.
Cupcakeria: Liner 2, Zebra Cake.
Cupcake 1: Green Frosting, Powsicle Syrup, White Chocolate Star.
Cupcake 2: Blue Frosting, Lollipop Bits, 3 Nutty Butter Cups.
Ad blocker interference detected!
Wikia is a free-to-use site that makes money from advertising. We have a modified experience for viewers using ad blockers

Wikia is not accessible if you've made further modifications. Remove the custom ad blocker rule(s) and the page will load as expected.