David Lambert



David Lambert In Papa's Cupcakeria & Pastaria

Gender

Male

Occupation

Student of Tastyville High School & Papa's Cupcakeria Cashier Worker

First Appearance

Papa's Pizzeria

Hair(type)

Brown Afro

Attitude as a Customer

Normal

Favorite Holiday

Starlight Jubilee & Halloween

Birth Date

May 24th, 1994

David Lambert is a student of Tastyville High School, He Debuted In Papa's Pizzeria. Favorite Holiday is Starlight Jubilee & Halloween. All Different Appearance Has Very Difficult In All Gamerias.
Orders
Papa's Pizzeria
4 Mushrooms (left)
2 Anchovies (right)
8 Pepperoni
20 Minutes
Sliced Into 4 Cuts
Papa's Burgeria

Bottom Bun
Ketchup
Pickles
Rare Patty
Cheese
Barbeque Sauce
Top Bun
Papa's Taco Mia
Hard Shells
Pork
Jalapenos
White Rice
Nacho Cheese Sauce
Guacamole
Papa's Freezeria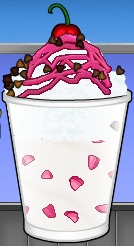 Medium Vanilla Sundae with Strawberries
Chunky Blend
Whipped Cream
Strawberry Syrup
Chocolate Chips
3 Cherry
Papa's Pancakeria
Blueberry Pancakes
Sugar
Chocolate French Toast
Cinnamon
Blueberry Pancakes
Bacon Waffle
4x Strwaberries
Drink:
Papa's Wingeria
4 Parmesan Shrimp
6 Medium Wings (left)
2 Atomic Strips (right)
2 Red Peppers (right)
Blue Cheese Dip
Papa's Hot Doggeria
Hot Dog in a Hoagie Roll
Chili
Onion
Papa's Ballpark Mustard
Chili
3x Tomatoes
Bacon
Drink and Popcorn:

Medium Fizzo
Medium Red Hot Popcorn
Papa's Cupcakeria
Liner A
Blueberry Cake (Carrot Cake in Halloween Holiday)
White Frosting
Cupcake 1:

Chocolate Drizzle
Chocolate Chips
3 Nutty Butter Cups

Cupcake 2:

Vanilla Drizzle
Shaved Coconuts
Marshmallows
Cherry
Marshmallows

Starlight Jubilee Theme

Cupcake 1:

Dark Blue Frosting
Powsicle Drizzle
Chocolate Chips
Silver Star Sprinkles
Candy Rocket
White Chocolate Star
Candy Rocket

Cupcake 2:

Red Frosting
Vanilla Drizzle
Powsicle Drizzle
Silver Star Sprinkles
Festive Flag
Candy Rocket
Festive Flag

Halloween Theme

Orange Frosting
Cupcake 1:

Spooky Sprinkles
Chocolate Drizzle
Candy Jack-o-Lantern
Sugar Skull
Candy Jack-o-Lantern

Cupcake 2:

Chocolate Chips
Licorice Drizzle
Shaved Coconuts
3 Candy Corn
Papa's Freezeria HD
Large Blue Moon Sundae with Blueberries
Smooth Blend
Whipped Cream
Blueberry Syrup
Wildberry Derps
Tropical Charms
Hazelnut Swizzle, Gummy Onion, Hazelnut Swizzle
Papa's Pastaria
Spaghetti
Papa's Marinara Sauce
3x Chicken
3x Sausage
Chessy Bread
Starlight Jubilee Theme

Stellini
Rocket Ragu
Blue Cheese
4x Tomatoes
2x Chicken
2x Blue Cheese
Chessy Bread

Halloween Theme

Spaghetti
Purple Pesto
Cauldron Powder
Crushida Peppers
5x Mussels
Chessy Bread
Best Friends
Willow (Because David Lambert has on day 2 at rank 30 or 31)

Joe Rosenberg (his Brother)
Trivia
He Was Gonna Win In Papa's Next Chefs 2014
Gallery
Ad blocker interference detected!
Wikia is a free-to-use site that makes money from advertising. We have a modified experience for viewers using ad blockers

Wikia is not accessible if you've made further modifications. Remove the custom ad blocker rule(s) and the page will load as expected.