Dawn
[[|250px]]


Dawn's new look in Donuteria

First Appearence

Papa's Pancakeria

Family
Dawn Kristin Choyyld is a lawyer who debuts in Pancakeria. She is a closer in Hot Doggeria taking the place of
Keriana
,  Her favorite holiday is Starlight Julibee.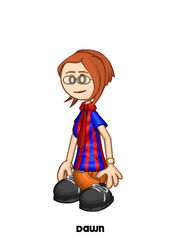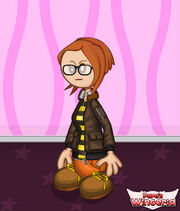 Orders
Pancakeria:
French Toast with Pecan Mix
Maple Syrup
2x butter
2x strawberry
Whipped Cream
Honey
Burgeria HD:
Top Bun
Mustard
Mushrooms
Bacon 
Onion Ring
Well Done Patty
Ketchup
Bottom Bun
Wingeria:
2 Spicy Garlic Boneless Wings
9 Cheese Cubes
2 Ranch Dips
Hot Doggeria:
Chicago Bun
Cheddarwurst (if not yet, hot dog)
Ketchup
Wild Onion Sauce (if not yet, Mustard)
Pineapple Relish (if not yet, Relish)
L Fizzo
S Buttered Popcorn
Cupcakeria
Cupcake 1 and 2
Deep Purple Frosting
Creameo Bits
Rock Candy
Powsicle Drizzle (during Starlight Julibee)
Nutty Butter Cup (White Chocolate Star during Starlight Julibee)
Pastaria
Gnocchi (Stellini)
Three Cheese Sauce (Rocket Ragu)
Black Pepper
3x Meatball
Foccacia
Ad blocker interference detected!
Wikia is a free-to-use site that makes money from advertising. We have a modified experience for viewers using ad blockers

Wikia is not accessible if you've made further modifications. Remove the custom ad blocker rule(s) and the page will load as expected.