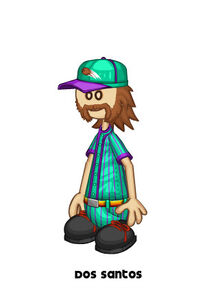 Dos Santos Is The Amateur Baseball Player In Calypso Island. He Was Debuted In Papa's Freezeria. Favorite Holidays In Papa's Cupcakeria Is Summer Luau & Baseball Season.
Biography
Birth Name:          Paul Dos Santos
Gender:                Male
Occupation:          Amateur Baseball Player
First Appearance: Papa's Freezeria
Favorite Holiday:  Summer Luau & Baseball Season (Cupcakeria)
                            Halloween (Pastaria)
Orders
Medium Vanilla Sundae with Cookie Dough
Regular Blend
Whipped Cream
Chocolate Syrup
Nuts
Mint Shavings
Bananas, Cherry, Cookie
Chocolate Waffle
2 Butters
Blueberry Pancakes
Blueberry Syrup
Chocolate Waffle
Honey Syrup
Drink:

Large Orange Juice with Ice
8 Calypso Chicken Strips (left)
4 Parmesan Wings (right)
2 French Fries (right0
Mango Chili Dips
Kielbasa in a Pretzel Bun
Mushrooms
Relish
Wild Onion Sauce
Cheese
3 Sport Pepper
Bacon
Drink and Popcorn:

Medium Tangerine Pop
Medium Cheddar Corn
Liner A
Vanilla Cake
Pink Frosting
Cupcake 1:

Creameo Bits
Chocolate Drizzle
Nutty Butter Cup

Cupcake 2:

Chocolate Chips
Rock Candy
Vanilla Drizzle
Cherry
Nutty Butter Cup
Cherry

Summer Luau Type:

Cupcake 1:

Teal Frosting
Tropical Charms
Honey Drizzle
Rock Candy
Gummy Pineapple
Cloudberry
Gummy Pineapple

Cupcake 2:

Sunglow Frosting
Tropical Charms
Strawberry Drizzle
Shaved Coconut
Bananas
Paper Umbrella
Bananas

Baseball Heroes Type:

Cupcake 1:

Chocolate Frosting
Chocolate Chips
Butterscotch Drizzle
Crushed Peanuts
Popcorn
Candy Baseball
Popcorn

Cupcake 2:

White Frosting
Chocolate Chips
Vanilla Drizzle
Butterscotch Drizzle
Shaved Coconut
Candy Baseball
Pretzel Bat
Candy Baseball
Large Rainbow Sherbet Sundae with Cotton Puffs
Smooth Blend
Whipped Cream
Tropical Charms
Wildberry Derps
Blueberry Syrup
3 Cookies
3 Waffle Cone Wedge
Al Dente Gnocchi
Purple Pesto (Papa's Marinara in other holidays)
3 Sausage
3 Mussels (Chicken in other holidays)
Chessy Bread
Gallery
Ad blocker interference detected!
Wikia is a free-to-use site that makes money from advertising. We have a modified experience for viewers using ad blockers

Wikia is not accessible if you've made further modifications. Remove the custom ad blocker rule(s) and the page will load as expected.