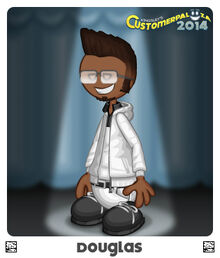 Douglas Fox is a man who first appears in Papa's Pizzeria. He appears in all games so far. His favorite holiday is New Year. His favorite color is white. He is
Auburn
's husband. His brother is
Baxter
. His sister is
Kennedy
. He has a daughter named
Juliette
.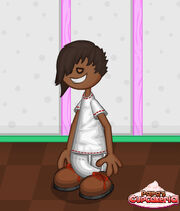 Orders
Pizzeria
Burgeria + other versions
Top Bun
(Swiss) Cheese
Mayo
Mushrooms
(Swiss) Cheese
Rare Patty
Bottom Bun
Taco Mia
Soft Shell
Chicken
Sour Cream
Cheese
Sour Cream
Freezeria
Large Cup
Creameo Bits
Vanilla Syrup
Chunky Blend
Whipped Cream
Butterscotch Topping
Mint Shavings
Creameo, Creameo, Creameo
Pancakeria
Pancake + Pecan Mix
Pancake + Pecan Mix
Whipped Cream
Blueberry Syrup
Blueberries
5x Butter
Milk, L, Ice
Wingeria
8 Parmesean Cheese Chicken Strips
4 Cheese Cubes
4 French Fries
Ranch Dip
Hot Doggeria
Chicago Bun
Veggie Dog
Mayo
Relish
Mushrooms
Hot Sauce
S Root Beer, Medium Cinnamon Swirl
Cupcakeria
Liner D
Confetti Batter (Vanilla Batter)
Cupcake 1 and 2
White Frosting
Vanilla Drizzle
Creameo Bits
Flavor X Drizzle
Cherry, Streamers, Cherry
Pastaria
Gnocchi
Regular
Creamy Alfredo
9x Mushrooms (Cheese Cubes)
Poppyseed Roll
Donuteria
(All Donuts same)
Vanilla Dough
Round Cut
White Frosting
Boston Creme
Vanilla Drizzle
(Countdown Crunch)
Cheeseria
White Bread
Swiss Cheese
Ranch Dressing
Lettuce
Lobster Chunks
Well-Done
Ad blocker interference detected!
Wikia is a free-to-use site that makes money from advertising. We have a modified experience for viewers using ad blockers

Wikia is not accessible if you've made further modifications. Remove the custom ad blocker rule(s) and the page will load as expected.