Drew is a guy who works in the Surf Shack. He is great friends with 
Chuck
 and 
Taylor
. Even though he looks like his favorite is Summer Luau, it's actually Easter, but in Pastaria it is.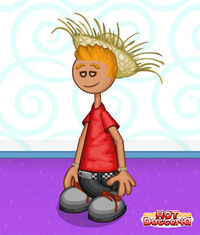 Orders
Burgeria: Bun, Mustard, Medium Patty, BBQ, Cheese, Ketchup, Rare Patty, Bun.
Taco Mia!: Pita, Pork, Nacho Cheese, Guac, Loco ? Sauce, Pinto Beans, Loco ? Sauce.
Freezeria: L, Pinneaple, Strawberry, Chunky, Choco Whip Cream, Sprinkles, Nuts, Nuts, Chocolate Syrup, x3 Bananas, x1 Creameo.
Pancakeria: Pecan Waffle, Cinnamon, x3 Bananas, Blueberry Waffle, Cinnamon, x3 Butter, L Tea w/ Ice.
Burgeria Ipad: Bun, Awesome Sauce, Medium Patty, BBQ, Swiss Cheese, Bacon, Ketchup, Bun.
Wingeria: x6 Garlic Boneless, x6 Buffalo Boneless, x9 Red Peppers, x6 Green Peppers on the Right, x6 Cheese Cubes.
Hotdoggeria: Pumpernickel Roll, Veggie Dog, Pinneaple Relish, Mild Sauce, Pinneaple Relish, Mild Sauce, Pinneaple Relish, Bacon. M Dr Cherry w/ S Candy Jack.
Cupcakeria: Liner D, Lemon Cake

1st: Sunglow Frosting (Vanilla Frosting), Cotton Candy Drizzle, Jelly Beans, Chocolate Syrup, Jelly Beans, x2 Bunny Ears.
2nd: same, but with Chocolate Frosting and x3 Tulip Cookies.

Pastaria: Regular Shells, Pinneaple Pancetta, Lemon Herb, Crushida Pepper, Cheese, x4 Shrooms, Cheesy Toast.
Ad blocker interference detected!
Wikia is a free-to-use site that makes money from advertising. We have a modified experience for viewers using ad blockers

Wikia is not accessible if you've made further modifications. Remove the custom ad blocker rule(s) and the page will load as expected.