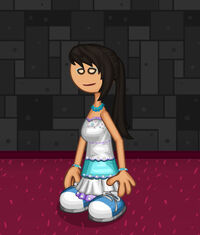 Elise is a girl who debuted on Pancakeria and has been never absent since.
Orders
Pancakeria: Blueberry Toast, 3 Butter Pads, Blueberry Toast, Cinnamon, S OJ w/ Ice
Wingeria: 2 Parmesan Shrimps on Left, 2 Atomic Wings on Right, 4 Carrots, 8 Green Peppers, Mango Chili Dip
Hot Doggeria: Pretzel Bun, Hot Dog, Cheese, Ketchup, Shrooms, Bacon. M Diet Fizzo w/ M Red Hot Popcorn.
Cupcakeria: Liner A, Strawberry Cake

Cupcake 1: Sunglow Frosting, Strawberry Drizzle, Shaved Coconut, x2 Cookies
Cupcake 2: Pink Frosting, Vanilla Drizzle, Chocolate Chips, Rock Candy, x3 Cloudberries 

Pastaria: Mafaldine, Garlic Basil, Italian Seasoning, Garlic Rush, x4 Prosciutto, x5 Fried Raviolis, Pepperoni Bread
Donuteria:

Pumpkin Long John, Orange Frosting, Lemon Chiffon, Dreamsicle Drizzle, Crushed Peanuts
Blueberry Skull, Clear Glaze, Cookie Dough, Peanut Butter Drizzle, Creameo Bites
Blueberry Skull, Orange Icing, Lemon Chiffon, Toffee, Crushed Peanuts
Ad blocker interference detected!
Wikia is a free-to-use site that makes money from advertising. We have a modified experience for viewers using ad blockers

Wikia is not accessible if you've made further modifications. Remove the custom ad blocker rule(s) and the page will load as expected.