Emily and Erika Yulman are (almost) identical twins. They both make their first appearence in Papa's Taco Mia! They are based on User:Dawn14's friends in real life. They share the same favorite holiday in Pastaria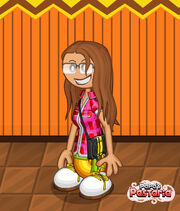 Emily
Emily is the girlier of the twins. She is also the smarter of the two. Her favorite holidays are Easter (Cupcakeria) and Halloween (Pastaria) . Her best friend is Simone (coming soon)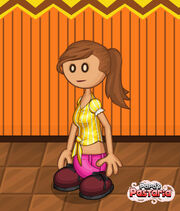 Erika
Erika is the sportier (yet, much more shy) of the twins. Her best friend is Tori. Her favorite holidays are Valentines Day (Cupcakeria) and Halloween (Pastaria). She has a crush on J. She loves Katy Perry
Emily's Orders
Taco Mia!
Soft Taco
Chicken
Cheese
Verde Sauce
Lettuce
Freezeria
Medium Cup
Nutty Butter Cups
Mint Syrup
Chunky Blend
Whipped Cream
Mint Shavings
Cherry, Banana, Cherry
Pancakeria
Pancake
2x Butter
Maple Syrup
Orange Juice, S, Ice
Wingeria
4 Teriyaki Shrimp
4 Carrots
Awesome Sauce
Hot Doggeria
Chicago Bun
Veggie Dog
Mayo
Papa's Ballpark Mustard
Small Tangerine Pop
Large Candy Jack
Cupcakeria (Symmetrical)
Liner D
Strawberry Cake
Violet Frosting
Cotton Candy Drizzle
Rock Candy
Jelly Beans
Tulip Cookie, Cherry, Tulip Cookie
Pastaria
Ravioli
Al Dente
Papa's Mariana
Cauldron Powder
4x Meatball (Mussels)
Garlic Breadstick
Erika's Orders
Taco Mia!
Hard Shell
Pork Carnitas
Verde Sauce
Guacomole
Hot Sauce
Freezeria
Small Cup
Strawberries
Strawberry Syrup
Chunky Blend
Strawberry Topping
Chocolate Chips
Banana
Pancakeria
Waffle
3X Butter
Waffle
Cranberry Juice, L, Ice
Wingeria
4 Honey Mustard Boneless Wings
4 Barbeque Boneless Wings
Hot Doggeria
Pretzel Bun
Hot Dog
Ketchup
Relish
Bacon
Small Lemon Mist
Medium Kettle Corn
Cupcakeria (Symmetrical)
Liner A
Strawberry Cake
Red Frosting (Pink Frosting if not availible)
Strawberry Drizzle
Watermelon Drizzle
Cherry, Frosted Rose, Cherry
Pastaria
Fettucine (Vermicelli)
Regular
Creamy Alfredo
Italian Seasoning
7X Mushroom
Focaccia
Ad blocker interference detected!
Wikia is a free-to-use site that makes money from advertising. We have a modified experience for viewers using ad blockers

Wikia is not accessible if you've made further modifications. Remove the custom ad blocker rule(s) and the page will load as expected.