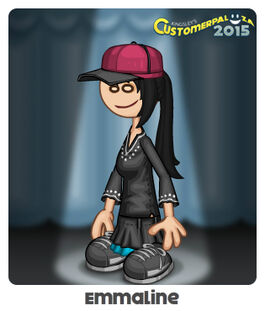 Emmaline is a teenage girl who first appeared in Papa's Pizzeria. She is the most awesome person in Tastyville. Her favorite holiday is Thanksgiving! She LOOOOVES Awesome Sauce.
Orders
Pizzeria: 8 Sausages, Cook for 30 Minutes, Cut in 6ths
Burgeria: Bottom Bun, Cheese, Mayonaise, BBQ Sauce, Medium Burger, Lettuce, Top Bun
Taco Mia: Soft Taco, Steak, Nacho Cheese, Pinto Beans, Black Beans
Freezeria: Small Cup, Marshmallows (S'mores in To Go!), Rainbow  Sherbet, Chunky, Chocolate Whipped Cream, Tropical Charms, Nuts, Blueberry Topping, Creameo, Cookie, Creameo
Pancakeria: Waffle (2x), 4 Bananas, Syrup, Whipped Cream, Blueberries, Small Coffee With Ice
Wingeria: 4 Atomic Strips, 2 Wasabi Wings to the Left, 2 Carrots the Right, Awesome Sauce Dip
Hot Doggeria: Hoagie Roll, Hot Dog, Chili, Cheese, Ketchup, Onions, Small Hyper Green, Medium Kettlecorn
Cupcakeria: Lemon Cake in Liner A, First Cupcake: Teal Frosting, Autumn Leaves Sprinkles (Or Chocolate Chips), Strawberry Drizzle, 3 Harvest Stripe Cookies (Or Marshmallows), Second Cupcake: Pink Frosting, Pumpkin Pie Drizzle (Or Vanilla Drizzle), Creameo Bits, Nutty Butter Cup
Pastaria: Harvest Tortellini (Radiatori), Papa's Marinara, Shredded Mozzerella, Crushed Croutons (Or Italian Seasoning), Garlic Breadstick
Donuteria: First Donut: Red Velvet Ring, Cocoa Powder (Or Sky Blue Icing), Candy Corn Drizzle (Or Banana Drizzle), Mini-Marshmallows, Second Donut: Red Velvet Acorn (Ring), Strawberry Icing, Pumpkin Pie Filling (Or Chocolate Mousse), Raspberry Bark, Fudge Swirl Drizzle (Or Chocolate Drizzle), Third Donut: Pumpkin Ring, Cocoa Powder (Or Sky Blue Icing), Creameo Bits, Crushed Peanuts
Cheeseria: Pumpkin Bread (Or Flatbread), Shredded Cheddar, Stuffing (Or Tomatoes), Pulled Pork, Awesome Sauce, Fried Egg, Sweet Potato Wedges with 2x Awesome Sauce
Trivia
She is the custom worker version of The Most Awesome/Amazingly Awesome-Sauce
Ad blocker interference detected!
Wikia is a free-to-use site that makes money from advertising. We have a modified experience for viewers using ad blockers

Wikia is not accessible if you've made further modifications. Remove the custom ad blocker rule(s) and the page will load as expected.