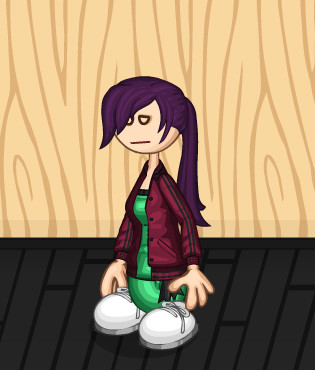 Equity is a ninja from Powder Point.
Bio
TBA
Orders
Donuteria: Donut 1: Regular Long John, Red Icing, Sky Blue Drizzle, Donut 2: Regular Long John, Chocolate Icing, Strawberry Filling, Chocolate Chips, Donut 3: Regular Round, Vanilla Icing, Cosmic Coconut
Trivia
This character originally belonged to Derpinator Power, but later she was adopted by Emma.
Her first bio was written by Derpinator Power.
She wears a ninja mask to conceal herself in the past.
Her orders in the gamerias are big.
Gallery
Christina's FCs
Major FCs (Click to Expand/Hide)
Minor FCs (Click to Expand/Hide)
Ad blocker interference detected!
Wikia is a free-to-use site that makes money from advertising. We have a modified experience for viewers using ad blockers

Wikia is not accessible if you've made further modifications. Remove the custom ad blocker rule(s) and the page will load as expected.