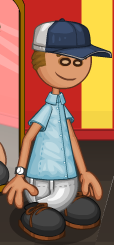 Erik is a man.
He works in the wingeria
Pizzeria: 11 sauseges all around, bake 4 2/3 a chronometer, 8ths
Burgeria: Bun, Cheese, rare patty, ketchup, tomato, bun
Taco Mia: Beef in a Pita Taco, cheese, jalapenos, tomatoes, nacho sauce
Freezeria: Large Banana Sundae with creameo bits, smooth, chocho cream, gummi onion(x3)
Pancakeria: 1 bacon waffle, 6 strawberries, chocholate chips, Small Cranberry Juice with ice
Wingeria: 5 Spicy Garlic Wings, 9 Carrots, Blue Cheese Dip
Hot Doggeria: Pretzel Bun, Cheddarwurst, Wild Onion Sauce, Salsa, Hot Sauce, Chili, 2x Tomato, 1x Sport Pepper, Bacon, S Purple Burple (if not yet, Dr. Cherry, if not yet, Fizzo), M Cheddar Corn (if not yet, Candy Jack)
Ad blocker interference detected!
Wikia is a free-to-use site that makes money from advertising. We have a modified experience for viewers using ad blockers

Wikia is not accessible if you've made further modifications. Remove the custom ad blocker rule(s) and the page will load as expected.