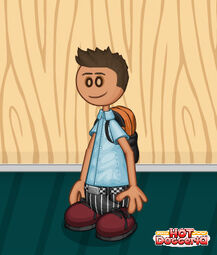 Ethan is the son of Iman and Mitch (they got married). He is a 6th grader at Tastyville Central Middle School.
Pizza: 3 olives (upper left quarter), 5 mushrooms (upper right quarter), 2 peppers (lower left quarter), 3 onions (lower right quarter), 3/8 of a meter, 8ths
Burger: Bun, Medium Patty, Cheese, Tomato, Onion, Onion, BBQ, Bun
Burger HD: Bun, Well-Done Patty, Swiss Cheese, Mushrooms, onion onion, Awesome Sauce, Bun
Taco: Soft Taco, Steak, Nacho Sauce, Hot Sauce, mild sauce, cheese, brown rice
Sundae: Medium Cup, Blueberries, Rainbow Sherbert Syrup, Chunky Blend, Whipped Cream, Butterscotch Topping, Tropical Charms, Cookie, Banana, Cookie
Breakfast: pancake w/ bacon mix, 5x butter, pancake, maple syrup, large cup of CJ w/ ice
Wings: 8 spicy garlic wings, 2 carrots (left), 2 green peppers (left), 2 red peppers (right), 2 celery (right), 2 ranch dips
Hot dog: Italian sausage in a regular bun, marinara sauce, cheese, fajita veggies, mushrooms, medium cup of Dr. Cherry, medium pack of buttered popcorn
Ad blocker interference detected!
Wikia is a free-to-use site that makes money from advertising. We have a modified experience for viewers using ad blockers

Wikia is not accessible if you've made further modifications. Remove the custom ad blocker rule(s) and the page will load as expected.