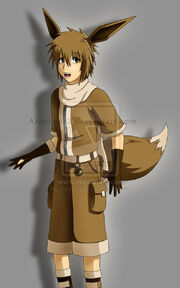 Ethan is a 7th grader from M. Caramel Academy. He is the long lost brother of Eva Evason. He debuts in Taco Mia as an advertiser. He goes bananas when he sees a bug. As he has a fear of most of them. He is a closer in Pancakeria as one day during that time he had a fight with a raged fox. He then comes on Wednesdays. He is usually unlocked when all his favourite toppings are unlocked. He is British.
Flipdeck Info
After 3 years of growing up with wolves, Ethan got spotted by his sister,Eva. At first sight, she knew he had to be her brother. But he couldn't forget the wonderful moments with the wolves, so he promised himself will wear a wolf and fox costume each day and walk past the hungry wolves to feed them..
Orders
     Taco Mia
Pita Bread
Steak
Nacho Cheese
Brown Rice
Cheese
Jalapenos
Fajita Veggies
     Freezeria HD/To Go
Small Cup
Cinnamon Roll (Nutty Butter Cup In Original)
Chocolate Syrup
Blended Regular
Chocolate Whipped Cream
Crushed Peanuts (None In Original)
Nuts
Chocolate Chips
Chocolate Drizzle
Butterscotch Drizzle
Waffles Cone, Hazelnut Swizzle, Hazelnut Swizzle (Creameo, Cookie, Creameo)
Waffle Cone, Waffle Cone, Hazelnut Swizzle (Cookie, Creameo, Cookie)
     Pancakeria
Chocolate Chip Waffle
Maple Syrup
Chocolate Chip Waffle
Maple Syrup
Chocolate Chip Waffle
Maple Syrup
Chocolate Chips
    Wingeria
4 BBQ Strips the left
4 Calypso Strips on the right
4 Cheese Cubes on top
4 french fires at the bottom
Kung Pao, Awesome Sauce
    Hot Doggeria
Pretzel Bun
Kielbasa
Papa's Balpark Mustard
Chilli
Mushrooms
Cheese
Bacon
Medium Root Beer
Medium Cheddar Corn
    Papa Louie 2 When Burgers Attack
Weapon: Earphones
Skill: x2 Jump
Level: Level 7 , Need Wall Jump
Badge: Defeat 40 Bacon Enemies as Ethan
    Cupcakeria
Favourite Holiday: Thanksgiving
Both Cupcakes : Liner D
Red Velvet Cake
Mocha Frosting
Chocolate Drizzle
Autumn Leaves Sprinkles (Sprinkles)
Chocolate Chips
Harvest Cookie x3 (Cloudberry x3)
   Pastaria
Favourite Holiday: Chillifest
Al Dente Ravioli
Rico's Chilli (Beefy Bolognese)
Parmeasan Cheese
Grated Mozzarella
Cheddar Cheese (Italian Seasoning)
x3 Meatball
x3 Sausage
x3 Fried Calamari
Poppyseed Roll 
Trivia
He was made by FlipJake
He grew up with wolves and foxes
Is a peacemaker
Once almost set himself on fire. Luckily had a glass of water.
He studies at Milk Caramel Academy which contains a primary school, high school and college.
Credits
Special thanks to AJanime12 for creating the picture. It looks great!
Ad blocker interference detected!
Wikia is a free-to-use site that makes money from advertising. We have a modified experience for viewers using ad blockers

Wikia is not accessible if you've made further modifications. Remove the custom ad blocker rule(s) and the page will load as expected.