Just What do you Think You're Doing,

User

?
This is property of Doremy. Please Do Not Edit Unless you got Specific Permission. However, you may edit Grammar Mistakes and Other Minor Edits.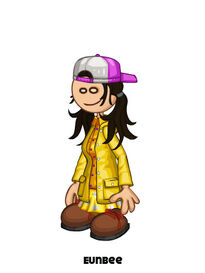 Eunbee (yoon-bee) is a korean girl who works at the hotdoggeria. Her favorite colors are yellow and black. She loves reading, and has read many series. Her BFF is
Grace
. She is based on Angrybirdsrocks323's friend.
Pizza: 9 pepperonis, 5 olives, 4th a meter, 6ths
Burger: Bun, Rare Burger, cheese, Medium Burger, cheese, Well-done burger, cheese, bun
Taco: hard, steak, fajita peppers, tomatoes, tomatoes, onions, lettuce
Freezeria: Large Cup, Strawberries, Vanilla Syrup, Chunky, Cream, chochlate chips, a banana and cookie in the center.
Pancakeria: 2 bacon waffles, 1 blueberry toast, honey, blueberries, 6 bananas, Large Decaf with Ice
Wingeria: 5 wasabi strips, 2 teriyaki wings, 3 celeries, 3 kung paos
Hotdoggeria: Hoagie Roll, Veggie Dog, ketchup, mayo, mustard, ballpark mustard, wild onion sauce, cheese, Large Hyper Green, Large Candy Jack
Ranks
Pizza: Before Peggy (Hard)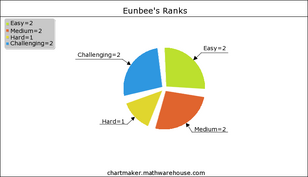 Burger: Before Clover (Medium)
Taco: Day 3 (Easy)
Freezeria: Before Ninjoy (Challenging)
Pancakeria: Rank 16 (Medium)
Wingeria: Rank 5 (Easy)
Hotdoggeria: Before Foodini (Challenging)
She LOVES to read.
Doremy Sweet

's FCs
Major FCs
(Click to Expand/Hide)
Minor FCs
(Click to Expand/Hide)
Touhou FCs
(Click to Expand/Hide)
Ad blocker interference detected!
Wikia is a free-to-use site that makes money from advertising. We have a modified experience for viewers using ad blockers

Wikia is not accessible if you've made further modifications. Remove the custom ad blocker rule(s) and the page will load as expected.