Just What do you Think You're Doing,

User

?
This is property of Doremy. Please Do Not Edit Unless you got Specific Permission. However, you may edit Grammar Mistakes and Other Minor Edits.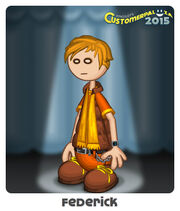 Federick is an astronaut who resides in Tastyville. He used to be a closer, but later he retired and then he became an astronaut. He likes to visits all the planets from the Flipverse, despise he likes everything about the space; such as galaxies, planets, etc. He's currently in the space with his best friend
Ashley
. Like Ashley, he is absent a lot due to his space traveling career. His favorite holidays are Starlight Jubilee (Cupcakeria), and Thanksgiving (Cheeseria)
Orders
Pizzeria: 6 Olives All Around, Well-Done, Cut in 4ths
Burgeria: Bottom Bun, Pickle, Onion, Pickle, Well-Done Patty, Top Bun
Taco Mia: Soft Taco, Steak, Cheese, Nacho Cheese, Cheese, White Rice
Freezeria: Small Cup, Yum & Ms, Strawberry Syrup, Smooth Blend, Whipped Cream, Tropical Charms, Mint Shavings, Tropical Charms, Banana, Gummy Onion, Banana
Pancakeria: ABSENT
Wingeria: ABSENT
Hot Doggeria: Pretzel Bun, Veggie Dog, Pinapple Relish, Relish, Pineapple Relish, 3 Tomatoes, Large Fizzo, Large Cheddar Corn
Cupcakeria: Liner B, Red Velvet Cake, Cupcake 1: Teal Frosting, Vanilla Drizzle, Cloudberry (White Chocolate Star), Cupcake 2: Coconut Shavings (Silver Star Sprinkles), Strawberry Drizzle (Powsicle Drizzle), 3 Marshmallows
Pastaria: ABSENT
Donuteria: ABSENT
Cheeseria: Marble Rye Bread, Pepperjack Cheese (Cheese Ball Spread), Sauerkraut, Awesome Sauce, Olives (Stuffing), Sauteed Onions, Sweet Potato Wedges with Chives and Rosemary
Trivia
Originally he belonged to Azuki, but later Azuki gave him to Fluffy Eevee323 as a gift.
Gallery
Doremy Sweet

's FCs
Major FCs
(Click to Expand/Hide)
Minor FCs
(Click to Expand/Hide)
Touhou FCs
(Click to Expand/Hide)
Ad blocker interference detected!
Wikia is a free-to-use site that makes money from advertising. We have a modified experience for viewers using ad blockers

Wikia is not accessible if you've made further modifications. Remove the custom ad blocker rule(s) and the page will load as expected.