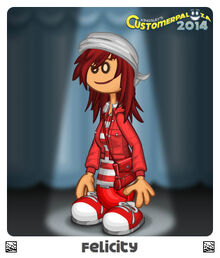 Felicity is a young girl who studies in Mint Barvard University. She is from Cinnamon Island and made her first appearance in Papa's Wingeria.
She was adopted by Shaira Sultana.
Appearance
Felicity is a red-haired girl who wears red and white clothes.
First look: She wears a red t-shirt, red pants with white stars at the side, and white shoes with red color in the back. She wears a red and white jacket.
Second look: She wears a shirt with red and white stripes, a red jacket. She wears a white bandana and the stars on her pants are gone. Her skin is tanned.
To accessorize herself, she also wears a red bag.
Info
Felicity grew up in the villages of Cinnamon Island. She used to help her mother in drying the cinnamon bark in their yard from when she was 13. This playful, crazy but responsible girl liked to fly kites and watch action movies. But after moving to Tastyvile for studying, she mostly stays in the library or hangs out with her friends.
Quotes
"Cinnamon gets rolled when under the sun and you get tanned under the sun. I wish the opposite happened..."
"I sometimes wear an overcoat in summer that makes people think that I am seriously crazy. But they don't know actually a crazy BULL was the one to make me do that!"
"Birds may forget chirping, the sun may forget rising, but my mother never forgets to wake me up every morning!"
Orders
Papa's Wingeria
5 Atomic Wings
5 Cheese Cubes
Ranch Dip and Blue Cheese Dip.
Papa's Hot Doggeria
Kielbasa in a Chicago Bun
Papa's Ballpark Mustard
Tomatoes
Relish
Medium Purple Burple (and no popcorn)
Papa's Cupcakeria (For both cupcakes)
Liner C
Red Velvet Cake
White Frosting
Rainbow sprinkles
Butterscotch Drizzle (Chocolate Drizzle on other holidays)
3 Candy Baseballs (2 Cherries and a Marshmallow on other holidays)
Papa's Pastaria (Absent)
Papa's Donuteria
Chocolate Ring Donut with Apple Pie filling (No fillings on other holidays)

Sky Blue Icing
Caramel Apple (Vanilla Drizzle on other holidays)
Cosmic Coconut

Red Velvet French Cruller with Strawberry filling

Cotton Candy Icing (Strawberry Icing on other holidays)
Candy Jack (Rainbow Sprinkles on other holidays)
Strawberry Drizzle

Pumpkin Pie Long John

Powdered Sugar
Chocolate Chips
Rainbow Sprinkles
Trivia
She is Shaira's first FC.
Felicity was originally up for adoption.
She studies Business in Mint Barvard University, she hopes to run her own business in the future.
Gallery