"Please do not mess with this page. It might disrupt the Dawn of time'"
This belongs to Dawniee. "Umm... could you please.. not touch this page... maybe... You may be warned or banned if you make unpermitted major edits.

I kindly ask that you not use any of my FC's unless you have my permission to do so.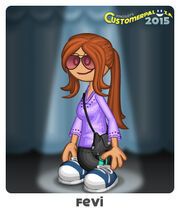 Felicita Victoria "Fevi" Walsh is a customer who made her debut in Papa's Pizzeria. Her nephew is  Matthew, her nieces are Zahra, Amber, Auburn, Tennyr and Daisy, her son is Nico, her ex-husband is Nicolas, her brother is Kacho , her sister is Scarletta. She is based off of User:Dawn14's mother. Her favorite holidays are Halloween (Cupcakeria, Cupcakeria To Go!/HD, Sushiria), New Year (Pastaria, Bakeria, Taco Mia HD), and Starlight Jubilee/BBQ (Donuteria-Cheeseria).
Orders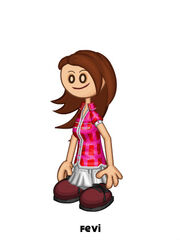 Pizzeria
Burgeria
Top Bun
Lettuce
Onion
Medium Patty
BBQ Sauce
Cheese
Bottom Bun
Taco Mia!
Freezeria
Small Cup
Cookie Dough
Chocolate Syrup
Smooth Blend
Chocolate Whipped Cream
Sprinkles
Blueberry Topping
Cherry
Pancakeria
Waffle + Pecan Mix
Maple Syrup
2X Butter
2x Strawberry
Coffee, S, Cream
Wingeria
4 Buffalo Wings
4 Carrots
Blue Cheese Dip
Hot Doggeria
Pumpernickel Roll
Kielbasa
Mustard
Ketchup
Relish
Pickle
Small Diet Fizzo
Small Kettle Corn
Cupcakeria (To Go!/HD)
Cupcake 1
White Frosting
Chocolate Drizzle 
Boo Sprinkles
Rock Candy
Cherry (Sugar Skull)
Cupcake 2
Mocha Frosting
Vanilla Drizzle (Licorice Drizzle during Halloween)
Lollipop Bits
Cherry (Sugar Skull)
Pastaria
Spaghetti (Rainbow Gramigma)
Al Dente
Beefy Bolognese
Rainbow Peppercorn
9X Meatball
Garlic Breadstick
Donuteria
Donut 1

Chocolate
Ring
Clear Glaze

Donut 2

Regular
Round (Star)
Powdered Sugar (Starlight Icing)
Blackberry Jam (Jubilee Jelly)
Rainbow Sprinkles (Star Sprinkles)

Donut 3

Chocolate
French Cruller
Strawberry Icing
Strawberry Drizzle (Cherrybomb)
Cheeseria
Flatbread (Texas Toast)
American (Smoked Cheddar)
Pulled Pork
Fajita Peppers
Balsamic
Regular

Waffle Fries
Chili
Cheese
Bakeria
Graham Cracker Crust
1/4 Apple, 3/4 Pecan (1/4 Tutti Frutti, 3/4 Pecan)
No Pie Top
Chocholate Shavings, Whole Pie
Whipped Cream Dollops, 8, Middle Ring
Cherries, 9, Middle and Inner Ring
Taco Mia HD
Pita Bread (Lava MunchMelt)
Chicken (Chorizo)
White Rice
Lettuce 
Sour Cream
Onions
Black Beans

Pepperjack Rounds
Pico de Gallo
Sushiria
Shiso Rice
Nori Seaweed (Tarantula Soy Seaweed)

Tempura Shrimp
Carrot
Crab Stick

Sesame Seeds (Ikura)

Chai Tea (Witch's Brew Tea)
Lychee Bubbles