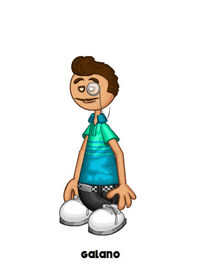 Galano is a customer based on the gym leader in Pokemon with the same name (in Spanish). He's specialized in water type.
Orders
Burgeria: Bun, Ketchup, Tomato, Mustard, Mayo, Meidum Patty, Cheese, Bun.
Taco Mia: Soft, Steak, Nacho Cheese, Lettuce, Sour Cream, Guac, Loco ? Sauce, Lettuce.
Freezeria: M, Blueberries, Rainbow Sherbert, Chunky, Whip Cream, Blueberry Syrup, Tropical Charms, x1 Cookie, x1 Creameo.
Pancakeria: Bacon Waffle, Cinnamon, x3 Bananas, Bacon Waffle, Cinnamon, x1 Butter, x2 Bananas. S CJ w/ Ice.
Wingeria: x4 Parmesan Wings, x2 Wild Onion Boneless, x2 Red Peppers (Right) x4 Cheese Cubes (Right) x4 Green Peppers (Right) x4 Carrots. Ranch Dip (x2) Blue Cheese.
Hot Doggeria: Chicago Bun, Cheddarwurst, Mustard, Cheese, Ballpark Mustard, Mushrooms, Bacon. S Tangerine Pop, S Candy Jack.
Cupcakeria: Liner D, Blueberry Cake.

(both cupcakes) Violet Frosting, Flavor X Drizzle, Stache Sprinkles, Flavor X Drizzle, Tropical Charms, x2 Cookies.

Pastaria: Al-dente Mafaldine, Beefy Bolognesa (Garlic Basil), x7 Fried Ravioli, x3 Chicken, Pepperoni Bread (Poppyseed Roll, Focaccia)
Ad blocker interference detected!
Wikia is a free-to-use site that makes money from advertising. We have a modified experience for viewers using ad blockers

Wikia is not accessible if you've made further modifications. Remove the custom ad blocker rule(s) and the page will load as expected.