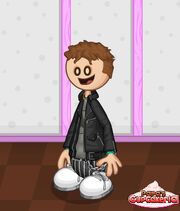 Giulliano is a young boy who lives in Tastyville. His sisters are Alexa (coming soon) and Genesis (coming soon). His parents are Dagmara (coming soon) and Carlos (coming soon). He is based on
Dawn14's
friend in real life. His favorite holiday is Christmas.
Orders
Pizzeria: 
3 Pepperoni all around
Cooked for 5 minutes
4 slices
Burgeria:
Top Bun
Mayo
Ketchup
Rare Patty
BBQ Sauce
Bottom Bun
Taco Mia
Soft
Pork
Black Beans
Nacho Cheese
Freezeria
Large
Strawberries
Banana Syrup
Smooth
Whipped Cream
Chocolate Topping
Sprinkles
Chocolate Chips
Banana, Creameo, Banana
Pancakeria
Waffle+Bacon Mix
Waffle+Bacon Mix
Whipped Cream
Honey
1x Butter
Orange Juice, L, Ice
Burgeria HD
Top Bun
Mayo
Bacon
Ketchup
Bacon
Rare Patty
BBQ Sauce
Bottom Bun
Wingeria
4 Buffalo Wings
4 Teriyaki Strips
4 French Fries
No Dip
Hot Doggeria
Chicago Bun
Cheddarwurst
Ketchup
Bacon
Small Purple Burple, S Buttered Popcorn
Cupcakeria
Cupcake 1 and 2
White Frosting
Rainbow Sprinkles
Chocolate Drizzle (Santa Cookie Drizzle during Christmas)
Marshmallow
Ad blocker interference detected!
Wikia is a free-to-use site that makes money from advertising. We have a modified experience for viewers using ad blockers

Wikia is not accessible if you've made further modifications. Remove the custom ad blocker rule(s) and the page will load as expected.