Hina Kagiyama is a Curse Godess that keeps away the Tastyville residents away from the dangerous Pasta Mount. She also recollects the curses of the humans. Her favorite holiday is St. Paddy's Day (St. Patrick's Day).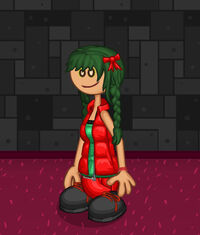 Orders
Pizzeria: 5 Peppers, 10 Olives, 5 Mushrooms, Cooked for 35.5 Cut In 8ths.
Burgeria: Bun, Well Done Patty, BBQ, Cheese, Medium Patty, Mayo, Onion, Well Done Patty, Cheese, Bun.
Burgeria Ipad: Bun, Welldone Patty, BBQ, Swiss Cheese, Medium Patty, Mayo, Fried Onion, Welldone Patty, Swiss Cheese, Bun.
Taco Mia: Soft, Pork, Guacamole, Loco Sauce, Guacamole, Verde Sauce, Tomato.
Freezeria: L Rainbow Sherbet w/ Pinneaple, Chunky, Choco Whip Cream, Bluberry Topping, Tropical Charms, Blueberry Topping, Choco Chips, x3 Bananas.
Pancakeria: Pecan Waffle, Sugar, x3 Butter, Cinnamon, Pecan Waffle, Cinnamon, x3 Butter, Sugar, L OJ w/ Ice.
Wingeria: 4 Parmesan Boneless, 4 Cheese Cubes, 8 Fries, Blue Cheese, Awesome Sauce
Hotdoggeria: Pumpernickel Roll, Cheddarwurst, Mayo, Pinnaple Relish, Ketchup, Mayo, Pinneaple Relish, Bacon, L Lemon Mist, M Candy Jack.
Cupcakeria: Red Velvet Cake in Liner D.

Cupcake 1: Green Frosting, Pistachio (Chocolate afterwards) Drizzle, Mint Shavings (Sprinkles afterwards) and 3 Mint Bars (3 Marshmallows afterwards)
Cupcake 2: Same but with Forest Green Frosting.

Pastaria: Al-dente Cloveroni, Papa's Marinara, Italian Seasoning, x3 Tomatoes, x4 Broccoli. Pepperoni Bread.
Donuteria:

Red Velvet Pon de Ring, Red Frosting, Matcha Drizzle
Red Velvet Round Donut, Cookie Dough, Red Frosting, Raspberry Bark, Boba Bubbles
Red Velvet Pon de Ring, Clear Glaze, Boba Bubbles, Chocolate Chips

Wingeria HD: 4 Thai Chili Hpg Wings, 4 Smoked Bacon Tofu Skewers, 4 Potato Skins, 4 Green Peppers, x1 Zesty Pesto
Ad blocker interference detected!
Wikia is a free-to-use site that makes money from advertising. We have a modified experience for viewers using ad blockers

Wikia is not accessible if you've made further modifications. Remove the custom ad blocker rule(s) and the page will load as expected.