Just What do you Think You're Doing,

User

?
This is property of Doremy. Please Do Not Edit Unless you got Specific Permission. However, you may edit Grammar Mistakes and Other Minor Edits.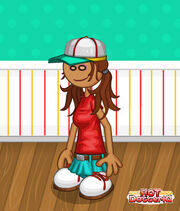 Iman is a girl who works at Papa's Hot Doggeria. She made her debut in Pizzeria. Before Papa's Hotdoggeria, she had no worker hat. She has many similarities to Utah, Her cousin is 
Amir
. Besides her worker hat, Iman's other change is that her hair turned reddish. She plays violin, and
Lunasa
teaches her.
Flipdeck Stuff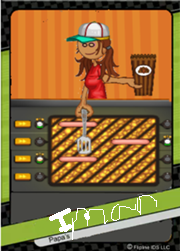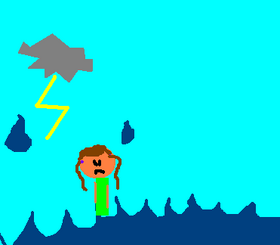 After her parents died in a hurricane, Iman had to live with Kingsley and Kayla as her parents. After graduating college, Iman wound up working in Papa's Hotdoggeria because the season tickets were sold out. But was she mad? No! She always likes to watch the Hardshells, Her favorite team!
Orders.
Pizzeria
3 peppers
3 mushrooms
i 4th
6ths
Burgeria
Bun
Medium Patty
cheese
lettuce
Bun
Burgeria HD
Bun
Medium Patty
Swiss Cheese
Onion Ring
BBQ
Bun
Taco Mia
Hard Taco
Steak
Nacho sauce
Hot sauce
Mild sauce
Cheese
Brown rice
Freezeria
Large Cup
Marshmallows
Vanilla Syrup
Smooth Blend
Chocholate Whipped cream
sprinkles
Chocholate chips
2 Gummi onions,
banana
Pancakeria
Blueberry Toast
whipped cream
rasperries
Sugar
Cinnamon
Large Milk with Cocoa
Wingeria
3 wild onion wings
2 atomic strips
5 red peppers
mango chili dip
blue cheese dip
Hotdoggeria
Hoagie Roll
Kielbasa
ballpark mustard
relish
salsa
hot sauce
Medium Diet Fizzo
Large Cheddar Corn
Cupcakeria
Confetti Cake, Green Frosting, Vanilla Drizzle, Lollipop Bits, 3 marshmallows, Teal Frosting, Rock Candy, XoXo Sprinkles, Rainbow Sprinkles
Doremy Sweet

's FCs
Major FCs
(Click to Expand/Hide)
Minor FCs
(Click to Expand/Hide)
Touhou FCs
(Click to Expand/Hide)
Ad blocker interference detected!
Wikia is a free-to-use site that makes money from advertising. We have a modified experience for viewers using ad blockers

Wikia is not accessible if you've made further modifications. Remove the custom ad blocker rule(s) and the page will load as expected.