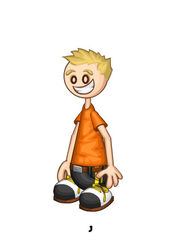 James "J" Pritcherd is a young boy who made his debut in Papa's Taco Mia!. It is known that
Erika
has a crush on him. He is captain on all of
Tastyville Central High School
's teams, and has a scholarship in football. He has small orders. His favorite holidays are Pirate Bash (Cupcakeria) and Gondola 500 (Pastaria)
Orders
Taco Mia!
Pita Bread
Pork Carnitas
Nacho Cheese
Guacomole
Freezeria (HD)
Small Cup
Strawberries (Kiwi)
Mint Syrup
Chunky
Whipped Cream
Pancakeria
Pancake
Orange Juice, L, Ice
Burgeria HD
Top Bun
Ketchup
Well Done Patty
Bottom Bun
Wingeria
4 Buffalo Shrimp
5 Celery (Right)
Blue Cheese
Hot Doggeria
Regular Bun
Hot Dog
Cheese
Mayo
Bacon
Small Diet Fizzo
Medium Kettle Corn
Cupcakeria (Symmetrical)
Liner B
Blueberry Cake
Dark Blue Frosting
Cannonball Gum
Blueberry Wave Drizzle
Cloudberry
Pastaria
Macaroni (Mafaldine)
Regular
3 Cheese Sauce
Garlic Rush (no other toppings in other holidays)
4x Fried Ravioli (no other toppings in other holidays)
Foccacia
Ad blocker interference detected!
Wikia is a free-to-use site that makes money from advertising. We have a modified experience for viewers using ad blockers

Wikia is not accessible if you've made further modifications. Remove the custom ad blocker rule(s) and the page will load as expected.