WARNING!
This page is made by XxBlazingDragonxX. Do not edit without permission.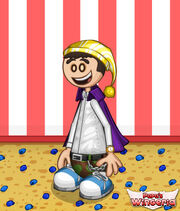 Jack is a boy from Calypso Island. He is Big Pauly's son. His orders are just like Big Pauly's and are very unhealthy. He is a very competetive eater and he is Kenji's worst enemy because he and Kenji are always in the same competetion but Kenji always ends up winning. His favourite food are sundaes.
Orders
Freezeria:
Large Cup
Yum 'n' Ms
Chocolate Syrup
Smooth Blend
Chocolate Whipped Cream
Strawberry Syrup
Butterscotch Topping
Sprinkles
Tropical Charms
Chocolate Chips
Cherry on top
Pancakeria:
3 Bacon French Toasts
Cream
Powdered Sugar
Chocolate Chips
Coffee with Sugar
Wingeria:
8 Honey Mustard Chicken Strips
4 French Fries
Mango Chilli Dip
Blue Cheese Dip
Zesty Dip
Awesome Sauce Dip
Hot Doggeria:
Kielbasa
Hoagie Roll
Relish
Mayo
Hot Sauce
Bacon
Large Fizzo
Large Chocolate Corn
Ad blocker interference detected!
Wikia is a free-to-use site that makes money from advertising. We have a modified experience for viewers using ad blockers

Wikia is not accessible if you've made further modifications. Remove the custom ad blocker rule(s) and the page will load as expected.