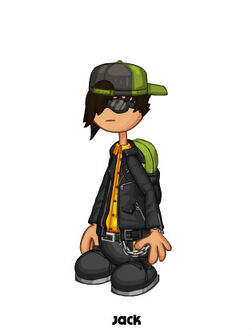 John "Jack" Rackerson 
is an ordinary 15 year old athletic boy. He is born on November 5, 1998. His favorite holiday is Neptune's Feast. He is a closer. 
Flipdeck
This sporty boy, Jack is a big fan of many sports like American football, ice hockey, soccer, wrestling, baseball, and basketball. He is a state champion wrestler, basketball player, and baseball player. 
Orders
Coming Soon! 
Ad blocker interference detected!
Wikia is a free-to-use site that makes money from advertising. We have a modified experience for viewers using ad blockers

Wikia is not accessible if you've made further modifications. Remove the custom ad blocker rule(s) and the page will load as expected.