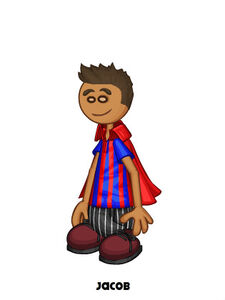 Jacob is a vampire in Tastyville. His best friends are David and Jessie. He doesn't suck blood, but he does to very evil people. He also likes red orders. His wife is Lauren, and his children are Aiden and Hannah He is a descendant of Dracula. He is fluent in Romanian. His favorite holiday is Thanksgiving, but in Papa's Cheeseria, it is Portallini Feast. He is always a closer (or last customer in Pizzeria/Burgeria), because he can't go out during the day (Lauren can, because she is "half" vampire).
He Is a Good Friend of Flandre Scarlet, since both are Vampires. Somewhat he hates a Bit Remilia but nobody Knows Why. He HATES Kagerou Imaizumi who is a werewolf.
Orders
Pizzeria: 8 Pepperonis to the Left, cook 1/4, Cut into 8ths
Burgeria: Bottom Bun, Tomato, Tomato, Rare Patty, Rare Patty, Lettuce, Top Bun
Taco Mia: Soft Taco, Steak, Mild Sauce, Tomatoes, Hot Sauce, Pinto Beans, Nacho Cheese
Freezeria: Medium Cup, Cookie Dough, Strawberry Syrup, Normal Blend, Whipped Cream, Tropical Charms, Strawberry Topping, Chocolate Topping, 3 Cherries on Top
Pancakeria: Pecan Waffle, Pecan Waffle, Pecan French Toast, 4 Strawberries (The Butter is a Mistake in the Picture), Chocolate Chips, Large Tea with Sugar
Wingeria: 4 Atomic Boneless all around, 3 Red Peppers to the Right, 3 Carrots to the Right
Hot Doggeria: Pretzel Bun, Keilbasa, Marinara Sauce, Fajita Peppers, 3 Tomatoes, Medium Fizzo, Large Kettle Corn
Cupcakeria: Liner B, Red Velvet Cake, Cupcake 1: Black Frosting, Strawberry Drizzle, Chocolate Chips, Rock Candy (Autumn Leaves Sprinkles), 3 Marshmallows (Chocolate Acorns), Cupcake 2: Sunglow Frosting, Chocolate Drizzle (Pumpkin Pie Drizzle), Rainbow Sprinkles, Coconut Shavings, 3 Nutty Butter Cups (Feather Cookie)
Pastaria: TBA
Donuteria: TBA
Cheeseria: TBA
Ad blocker interference detected!
Wikia is a free-to-use site that makes money from advertising. We have a modified experience for viewers using ad blockers

Wikia is not accessible if you've made further modifications. Remove the custom ad blocker rule(s) and the page will load as expected.