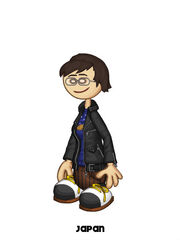 Japan is a young girl who works at the
Asian Rose Salon
. She first appears in Hot Doggeria. She is Vegetarian. Her favorite holiday is New Year.
Orders
Hot Doggeria
Chicago Bun
Veggie Dog
Mayo
Relish
Sauerkraut
Pickle
Medium Purple Burple
Small Kettle Corn
Cupcakeria
Cupcake 1
Sunglow Frosting
Rainbow Sprinkles (Stace Sprinkles)
Vanilla Drizzle (Flavor X)
Cloudberry, Cherry, Nutty Butter Cup (New Year Topper, Candle, Streamers)
Ad blocker interference detected!
Wikia is a free-to-use site that makes money from advertising. We have a modified experience for viewers using ad blockers

Wikia is not accessible if you've made further modifications. Remove the custom ad blocker rule(s) and the page will load as expected.