Just What do you Think You're Doing,

User

?
This is property of Doremy. Please Do Not Edit Unless you got Specific Permission. However, you may edit Grammar Mistakes and Other Minor Edits.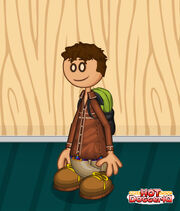 Jared is a teenager who first appeared in Papa's Taco Mia. He is the brother of Simon and Mallory. Right now, he is a student in Tastyville High. He is dating Margie. He has a light appetite.
Orders
Taco: beef in a soft taco, peppers, cheese, verde sauce, black beans
Freezeria: Small Cup, NBCs, Strawberry Syrup, Chunky, Cream, sprinkles, tropical charms, strawberry topping, 3 cherries
Pancakeria: 1 Waffle, 4 strawberries, honey, syrup, Small OJ with Ice
Burgeria HD: Bun, Medium Patty, swiss cheese, pickle, mustard, bun
Wingeria: 5 atomic boneless, 5 carrots, 2 kung paos
HotDoggeria: Regular Bun, It. Sausage, peppers, mustard, onions, cheese, Small Tangerine Pop, Small Buttered Popcorn
Burgeria To Go!: Bun, jalapenos, pepperjack cheese, medium patty, ketchup, Bun
Doremy Sweet

's FCs
Major FCs
(Click to Expand/Hide)
Minor FCs
(Click to Expand/Hide)
Touhou FCs
(Click to Expand/Hide)
Ad blocker interference detected!
Wikia is a free-to-use site that makes money from advertising. We have a modified experience for viewers using ad blockers

Wikia is not accessible if you've made further modifications. Remove the custom ad blocker rule(s) and the page will load as expected.